No 'polar vortex' here: Record heat grips Australia killing thousands of animals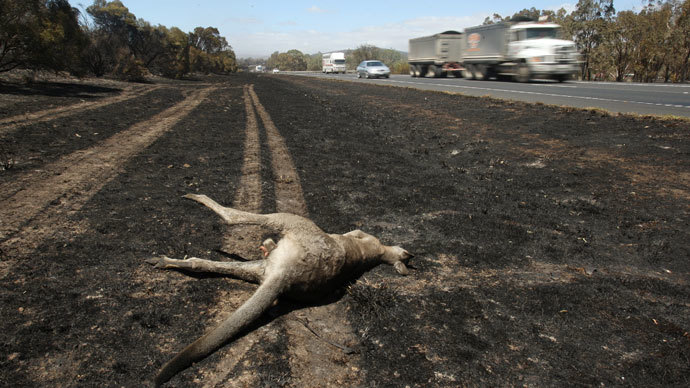 While the US is stricken by freezing cold, Australia is suffering a record heat with temperatures approaching 50C (122F) in some parts of the country and leaving thousands of animals dead.
A wave of stifling heat started began around Christmas and continues to move counterclockwise across Australia's north and into the south. The latest scorcher comes on the heel of Australia's hottest year on record.
High temperatures are now shifting into Western Australia, with large areas being "under extreme heatwave to severe heatwave."
"Certainly looking at the forecast over the next week, it's looking like that heat is going to continue," Karly Braganza of the Bureau of Meteorology has told the AP.
Already in January, 10 heatwave conditions are expected to expand eastwards and reach parts of South Australia.
Since December 27, temperature records have been set at 34 locations across Australia, according to the Bureau.
With the absence of monsoon rains in Australia's north last summer the entire continent endured its hottest year since records began in 1910, the Bureau of Meteorology said last week. The late arrival of the monsoon in northern Australia, which has a cooling effect, is contributing to the extreme heat, Braganza said, adding that global warming also has a role in this.
The soaring temperatures have caused death and illness for thousands of animals across the country.
Bats are said to be dropping from trees en masse and kangaroos are collapsing.
"It's an enormous animal welfare concern," Louise Saunders, president of the Queensland animal welfare group Bat Conservation and Rescue told AP.
At least 50,000 bats had been killed by the heat in the southeast part of Queensland.
"As they succumb, they just fall in heaps at the base of trees," Saunders said. "You can have 250 or more — it's like dripping chocolate — all dying at the base of trees."
The Royal Society for the Prevention of Cruelty to Animals confirmed that about 100,000 bats recently died, according to the Australian Broadcasting Corporation.
A large number of dead parrots, kangaroos and emus have also been found due to the extended dry conditions caused by the heat wave.
'Yep, we fried an egg on a shovel'
To demonstrate the extreme heat, pub owner Phil Turner from the Outback town of Maree, 700 kms (435 miles) north of Adelaide in South Australia, cooked an egg in a shovel.
"You hear stories of people frying an egg on a shovel, so we set up a shovel this morning out the front and sure enough we've got an egg there that's slowly frying away," he told ABC radio.
Faced with an oven-like heat, locals are desperate to find ways to cool themselves down. Some soak in a small wading pool for much of the day; others rely on two electric fans.
Soaring temperatures have had a devastating impact on cattle farmers in Queensland, which accounts for about 50 percent of the national herd. Australia is the world's third largest beef exporter, with sales during the 2013/14 season projected to reach A$5.4 billion ($4.82 billion).
But as the heat forces farmers to send cattle to slaughter, the country's cattle herd is predicted to fall to 25 million heads during the 2013/14 season, the lowest since the 2009/10 season, the Australian Bureau of Agriculture and Resource Economics and Sciences said.
Some farmers have said that if significant rains do not fall by autumn their operations will become worthless and they would have no option but to abandon their properties, the New Zealand Herald reported.
So far, the weather outlook is not good. It is expected that the overall record high of 50.7C (123.3F) for the country set in 1960 in the south might be broken in the next few days if current conditions continue.
You can share this story on social media: