'Our beloved Prophet is our honor!': Thousands rally in Pakistan against anti-Islam video (PHOTOS)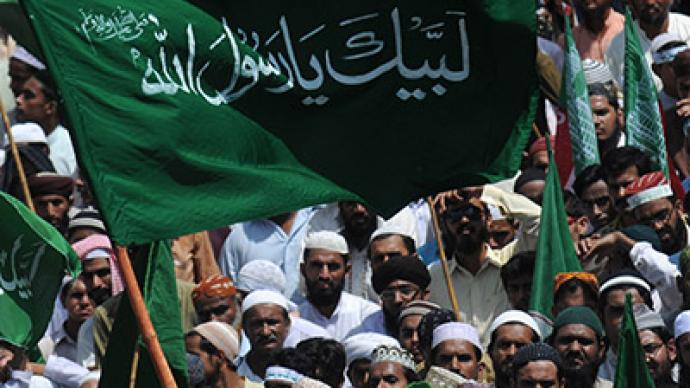 Over 15,000 people flooded the streets of Karachi, Pakistan, for a rally against the US-made 'Innocence of Muslims' video. The amateurish clip mocking the Prophet Muhammad sparked two weeks of protest in Pakistan, during which over 20 people died.
­Demonstrators filled the streets of the southern Pakistani port city, waving Islamic flags and banners and chanting "Down with America!" Hundreds of police were deployed to monitor the scene.Speakers at the rally slammed the US for refusing to outlaw the video clip despite persistent demands from Muslim countries. Both American leaders and Google – the company that owns the video website YouTube that is the main platform for the 14-minute trailer – said the clip cannot be banned outright, as this would violate freedom of expression laws."We strongly condemn this anti-Islam movie, it is a criminal act," prominent Muslim cleric Mufti Muneebur Rehman said during the Karachi rally.
Pakistani activists gather as they take part in a protest rally in Karachi on September 29, 2012, against an anti-Islam film. (AFP Photo / Rizwan Tabassum)Muslim clerics at the rally said that while they support freedom of expression, the West should respect the Muslim community's sentiments and stop promoting hatred towards Islam. They demanded that the video be removed from YouTube entirely.Also a target of ire at the rally were caricatures of Prophet Mohammed published in France in the wake of massive anti-film rallies around the world. Demonstrators called on Western nations not to permit blasphemous acts, especially for the sake of monetary gain.The rally was organized by moderate Sunni groups, and took place despite a three-day ban on protests ordered by authorities. Over 20 people died at similar rallies in recent days. On Friday, clashes between police and protesters broke out in front of the American embassy in Islamabad after demonstrators burned an American flag and portraits of US President Barack Obama.An exception was made for the Saturday march in Karachi, which wrapped up peacefully, after religious leaders promised authorities the rally would be nonviolent.
Thousands of people thronged the streets of Pakistan's biggest city of Karachi in the latest protest against a US-made anti-Islam film on September 29, 2012. (AFP Photo / Rizwan Tabassum)Meanwhile, Pakistani leaders tabled a declaration at the annual meeting of the Organization of Islamic Cooperation (OIC) on the sidelines of the UN General Assembly in New York City. The document, which the OIC adopted, decried a rise in Islamophobia under the "pretext of freedom of expression" and called for an international ban on sacrilegious acts. Islamabad's official position sharply contrasted with calls issued by Pakistani Federal Railways Minister Ghulam Ahmed Bilour, who refuses to withdraw a $100,000 bounty he offered for the killing of the 'Innocence of Muslims' filmmaker. On Saturday, Bilour reaffirmed his position and threatened further bounties on those who commit future acts of blasphemy. The Pakistani government was quick to clarify that Bilour's position did not represent government policy.
Pakistani activists step on a portrait of US President Barack Obama they take part in a protest rally against an anti-Islam film in Karachi on September 29, 2012. (AFP Photo / Rizwan Tabassum)The protests, which broke out over two weeks ago, appear to be waning in every country in the Muslim world except for Pakistan, with more demonstrations expected later on Satuday. Clerics called on protesters to remain peaceful, as violence mars the country's image. The chair of the US Joint Chiefs of Staff, General Martin Dempsey, was forced to cancel his visit to Islamabad due to the protests.
Pakistani activists gather as they take part in a protest rally in Karachi on September 29, 2012, against an anti-Islam film. (AFP Photo / Rizwan Tabassum)'Innocence of Muslims,' which so far has only been released as a trailer, initially sparked protests in Egypt, where an infuriated mob assaulted the US embassy in Cairo. Protest then spread to other Muslim nations, and countries with prominent Muslim minorities: Yemen, Tunisia, Bangladesh, Indonesia, India, Malaysia, Iran as well as France, Belgium, the UK and elsewhere Protests were often staged in front of the countries' US diplomatic missions, forcing them to shut down operations. More than 50 people died and hundreds more were injured in the rallies, which often erupted in violence.
Pakistani activists shout slogans during a protest rally against an anti-Islam film in Karachi on September 29, 2012. (AFP Photo / Rizwan Tabassum)