Rally hits Georgia's capital after tax rise announced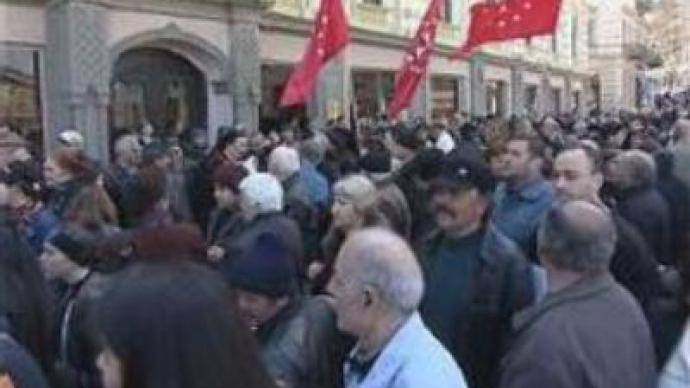 Over one thousand people gathered in the centre of the Georgian capital Tbilisi to protest against a tax and utility price rise. They condemned the government's policies and said promises to bring the country out of poverty haven't been kept.
A large scale demonstration, including pensioners, veterans and ordinary citizens, was led by several opposition movements. The protestors gathered in front of the Tbilisi Mayor's office after violent clashes with the police, as the demonstrators condemned the government's social policy calling it "illegal and dishonest".
"We want to be united against the government. We do not want this protest to be just our movements' protest, but we want this to be the protest of the people and society as a whole. We must do that, otherwise we will lose this fight,"
Jondi Bagaturia, opposition movement leader, stated. Earlier, a decision was made by the National Regulation Commission to set higher prices on gas, water and electricity. The opposition and gas distribution companies severely criticised this decision. However, the commission says the new price rises are legal.
"Before Russian gas became double the price, gas distribution companies were asking me to raise the tariff. Now they are protesting against the tariff, which is well regulated. And they try to blame us but not the high price of Russian gas. It's disgraceful,"
Gia Tavadze, the head of the National Regulation Commission, claimed. In addition, the city Municipality is considering introducing a new tax-law on the property of those living in the city's historical areas. This was the final straw which led to the angered opposition persuading people to come out and protest. They say the government, which was elected only 3 years ago by the same people, has failed their expectations for a better life.
"We should ask them why they are doing this to us. Maybe the reason is that they want our standard of living to decrease even further for us to live like slaves?"
Shota Patiashvili, a pensioner, said.
You can share this story on social media: