Bahrain rights activist Nabeel Rajab acquitted over tweet, still in jail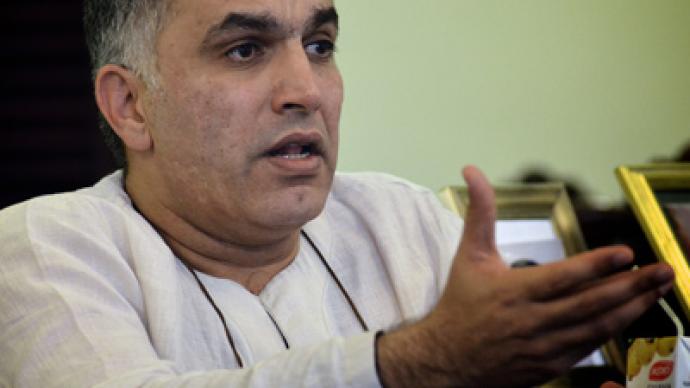 An appellate court in Bahrain has acquitted human rights activist Nabeel Rajab of insulting Bahrainis by criticizing the prime minister via Twitter, but remains in jail on other charges, his lawyer said.
Rajab was sentenced on July 9 to three months in prison for remarks which we said to be publically insulting to residents of the Sunni-majority al-Muharraq district in the capital Manama. In the contentious tweet, Rajab said that residents in the area only supported Prime Minister Sheikh Khalifa bin Salman Al Khalifa because of financial incentives."The judge ruled his innocence. Nabeel and representatives of many foreign embassies were present. I was able to meet him for a few minutes,"Rajab's lawyer Mohammed al-Jishi told Reuters. Rajab said he had been "subjected to psychological and physical torture" while speaking in court on Thursday, International Federation for Human Rights (FIDH) President Souhayr Belhassen said.Despite complains of ill treatment, Rajab will remain in jail, as a lower Bahraini court later added three years to the veteran human rights on three counts of leading protests. The prosecution further claimed he had incited violence against police. Rajab is set to appeal the later conviction in September.Human rights groups were highly critical of the three-year sentence, urging Bahrain authorities to overturn the ruling.Nabeel Rajab's acquittment [SIC] in that case is a relief but must not conceal that he was sentenced last week to 3 years imprisonment," Belhassen said"At the moment, Nabeel remains in jail and Bahraini authorities continue to smother all criticism. The authorities must go further and release all human rights defenders arrested and detained for their human rights activities," he continued.EU foreign affairs Chief Catherine Ashton said she expected "that this sentence…will be reconsidered in the appeal process," AFP cites her as saying.The United States had previously said it was "deeply troubled" by the verdict, but its criticism remained mostly muted as the US Fifth Fleet – which is viewed as a major bulwark against Iran – operates out of Manama base.Rajab has long maintained that he's been targeted for exercising his "right to defend human rights." As the head of the Bahrain Center for Human Rights, Rajab helped lead anti-government protests following a brutal crackdown on Shiite-led demonstrations against the Sunni regime in March 2011.
You can share this story on social media: