Quick progress may be made on Middle East peace settlement: Condoleezza Rice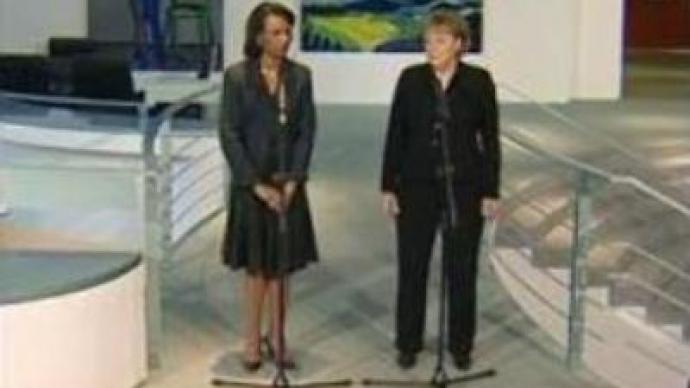 Condoleezza Rice says there has been strong encouragement for quick progress to be made on a Middle East peace settlement. She made the comments after talks with the German Chancellor, Angela Merkel in Berlin, following her tour of the Middle East.
Rice is now in London where she will bring British leaders up to date.Rice says encouragement has come not just from both Palestinian and Israeli leaders, but also from their neighbouring countries.And Israel's Deputy Defense Minister was the first Israeli official to set a time-frame for a final peace deal, saying 2 years should be time enough to conclude the process once negotiations re-start.This talk of progress was something the German Chancellor was quick to welcome.
"I am very happy that the foreign minister is going to brief me about her trip to the Middle East because it seems there has been some movement on the issue of the Israeli-Palestinian conflict. We have a common political interest that this conflict be solved. The European Union would like to make its contribution within the quartet,"
Angela Merkel said.On Wednesday Rice met her German counterpart, Frank Walter Steinmeier, who spoke of reviving the work of the Middle East quartet-comprised of the EU, the UN, Russia and the U.S.It was the quartet, who in 2003 introduced what has become known as the "Road Map" for an Israeli – Palestinian settlement laying out a series of steps to revive talks, with the eventual goal of lasting peace.Rice announced she would be inviting the members of the quartet to Washington setting February 2 as a provisional date.
"I look forward to consultations on how we move forward and there is no doubt that there could be a very important effect on the entire region if we're able to make progress on Middle East peace. I did find the parties very desirous of accelerating progress on the Road Map,"
Ms Rice said.This could help pave the way for informal talks the Secretary of State wishes to hold with Palestinian President, Mahmound Abbas and Israeli Prime Minister Ehud Olmert.
You can share this story on social media: