Queen's knighthood list tinted with polonium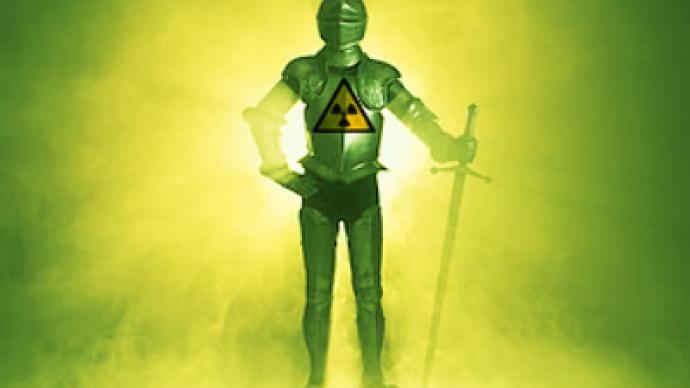 The British Queen Elizabeth II has granted a knighthood to fantasy writer Terry Pratchett. She has also honoured Led Zeppelin's Robert Plant, and… a health official whose team broke the news over the radioactive polonium-210 scare in 2006.
On Wednesday, the chief adviser to Britain's Health Protection Agency Nigel Lightfoot has been awarded Commander of the Order of the British Empire for organising public safety after the alleged poisoning of Alexander Litvinenko in London.
His team discovered radioactive polonium-210 traces in 25 places across London that Litvinenko visited after the poisoning, and estimated that 1,500 people may have been affected.
Terry Pratchett, famous for creating the 'Discworld' series of comic fantasy novels, has become a real knight himself, and could not contain himself.
"There are times when phrases such as 'totally astonished' just don't do the job," said the newly knighted Sir T. Pratchett, "I am of course delighted and honored and – needless to say – flabbergasted."
Robert Plant, famous as Led Zeppelin's front man in the 1970s, and one of the World's Best Voices according to Rolling Stone magazine, has also been awarded Commander of the Order of the British Empire for his commitment to British music.
Since the band's demise in 1980, the musician's solo career has continued unabated. Recently, he contributed to Alison Krauss's acclaimed album 'Raising Sand'.
What is truly remarkable, however, is that for the first time in history the order has been given to a minor. Eleanor Simmonds, a 14-year-old swimmer who won two gold medals at the 2008 Paralympics, has been granted Member of the Order of the British Empire this year. The Cabinet Office said that no one under 18 has ever been granted one before.
About the award
The Order of the British Empire is the most junior awards in the system of the country's chivalry orders and is populated with more members than any other.
Those who receive a knighthood, the highest rank of the order, are allowed to use the prefix Sir or Dame to their name. Decreasing in seniority is the award of Commander, Officer and, then Member of the Order of the British Empire – none of which allow the use of the Sir/Dame prefix.

Queen Elizabeth II's New Year Honours list this year is made up of more than 950 nominees and is comprised of both famous individuals and normal members of the population.
You can share this story on social media: