Putin urges weapons treaty talks with U.S.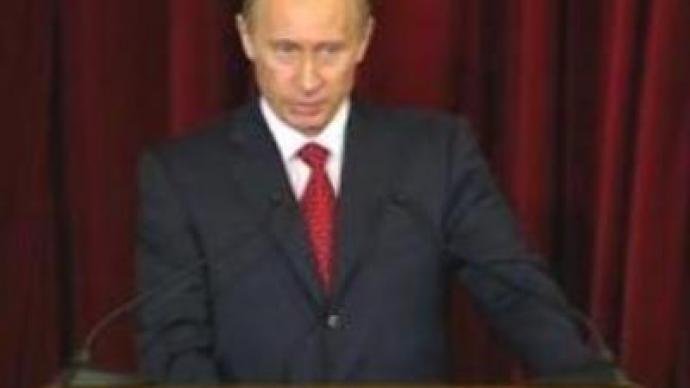 President Vladimir Putin has urged the United States to open talks on a new weapons treaty to replace the START agreement. The accord was signed by the U.S. and the Soviet Union in 1991, limiting the number of nuclear warheads each side should own. It exp
The head of state outlined foreign policy priorities in an address to ambassadors gathering for a briefing arranged every two years. This allows envoys to address the president personally and gives the president the opportunity to outline trends in foreign policy. This time, it was overshadowed by the deaths of the Russian embassy workers in
Iraq
and began with a minute of silence. Ahead of the G8 summit, Putin addressed criticism from certain Western nations that
Russia
was rolling back democracy. "Not everyone was ready to see
Russia
regaining its economic health and international status so fast," he said. "Some people look at us through the prism of prejudices of the past and see a threat coming from the reviving Russia," Putin added.The message to the ambassadors was that
Russia
was determined to promote its national interests firmly, but without confrontation. Priority in foreign policy would support and protect the rights of compatriots abroad
.
A day earlier, the president signed a decree encouraging immigration of "compatriots" from ex-Soviet states on humanitarian, economic and demographic grounds.
You can share this story on social media: