Forbes ranks Putin world's most powerful person, downs Obama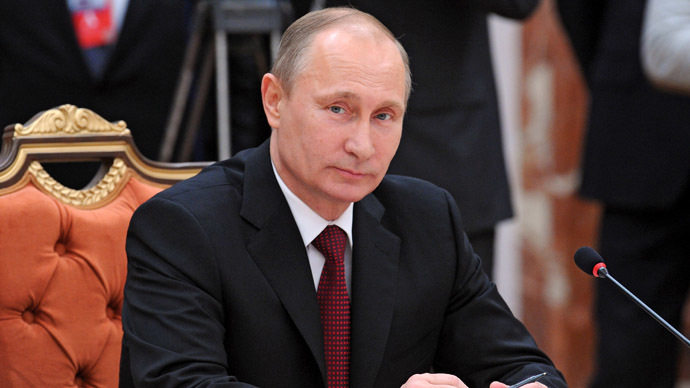 Russian President Vladimir Putin has been ranked the most powerful person in the world by Forbes. He topped the list of the 72 world figures that "matter the most," while US President Barack Obama was rated second.
Putin's Syria "chess match" that prevented the US strike, and his having the last word in the diplomatic row over the fugitive NSA whistleblower, Edward Snowden, didn't go unnoticed with the editorial rating of the influential American business magazine, and were noted among the reasons for his top place.
This, added to Obama's recent political failures and scandals surrounding his second term, have cost the US President the first position he achieved last year, with a "clear idea of the shift in the power towards Putin on the global stage."
The Russian President also "outstripped" the likes of the Chinese leader Xi Jinping (ranked #3), the German Chancellor Angela Merkel (who "fell" to #5 from #2 over the year), and the Saudi King Abdullah bin Abdul Aziz Al Saud (#8).

Curiously, Pope Francis was ranked #4, with the reason being he is "the spiritual leader of 1.2 billion Catholics, or about 1/6th of the world's population," as stated in the media's details on its "methodology." 
Other seemingly unexpected entries in the Forbes' list include European Central Bank President Mario Draghi (#9) outstripping the rank of the UK Prime Minister David Cameron (#11). 29-year-old Mark Zuckerberg (CEO Facebook) managed two ranks above the Israeli Prime Minister, Benjamin Netanyahu.
Apparently, Putin's first place on Forbes couldn't appear without ready-made clichés in the description and accompanying articles, with terms like "autocratic leader,""ex-KGB strongman," and "dictator" littered everywhere. His counterpart Obama, on the other hand, has been depicted as "the handcuffed head of the most dominant country," but still the "leader of the free world."
While giving Putin an optimistic forecast for his possible stay in office until 2024, Forbes was more negative towards Obama, saying that his "lame duck period" has already set in.

This is not the first time that Putin has led the "most influential" rating compiled by Western media. In 2012, Putin outdid everyone on the list of the international political think tank, Eurasia Group, published by the Foreign Policy magazine. However, the first place on the list was left ostensibly empty to symbolize the think tank's concept of "no clear leader" in the modern world.

You can share this story on social media: