Putin slams ISAF for turning blind eye to Afghanistan drug production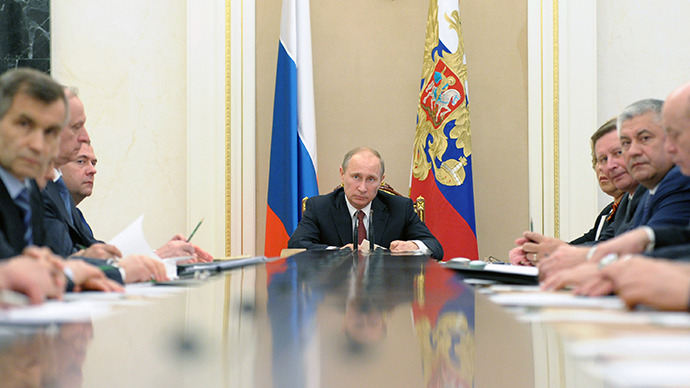 The International Security Assistance Force (ISAF) does almost nothing to eradicate drug production in Afghanistan, and this drug-trafficking problem will likely worsen in the near future, Russian President Vladimir Putin has stated.
The NATO security mission – which will pull out of Afghanistan in 2014 – has failed to bring stability to the region, Putin said at a meeting of the Russian Security Council on Wednesday.

"There are all grounds to believe that we may face an escalation of the situation in Afghanistan in the short term," the president said.
"The foreign military contingent, whose backbone is American forces, has not achieved a breakthrough in the fight against terrorist and radical groups as yet. On the contrary, their activity has been particularly increasing lately," Putin explained.
There has also been "a drastic increase in drug production in the territory of Afghanistan and the creation of stable drug-trafficking routes to other countries, including – unfortunately – to Russia," he said. Putin also noted that the ISAF does little to address the problem, while Russia's proposals on the matter have so far been ignored.
International terrorist and radical groups in Afghanistan "do not conceal their plans to export instability and will try to carry sabotage over to the territories of neighboring states and Russia," Putin said, adding that this would lead to an increase in drug-trafficking, crime, fundamentalism and uncontrolled flows of refugees. 
"In that connection, we must have a clear strategy of actions, which would take into consideration various scenarios for the development of the events," he stressed. 
Putin told the Security Council to work out proposals to strengthen Russia's strategic southern border in cooperation with the Collective Security treaty Organization and the Shanghai Cooperation Organization. Measures to counter potential threats from Afghanistan should include tighter border security, tougher migration controls and significantly beefed-up efforts to counter drug-trafficking. 
Moscow will also continue to provide needed assistance to Afghanistan, on both the bilateral and international level, Putin said. He added that Russia would like to see an independent Afghan Islamic republic, and for peace to finally return to the region. Currently, Russia helps the Afghan government train its civil specialists, military and police, and provides humanitarian aid. Putin also vowed that Russian companies are ready to join projects aimed at the revival of the Afghan economy and infrastructure.
This year, illegal poppy cultivation in Afghanistan – the world's top opium supplier – is expected to reach a record high, according to a report by the UN's Afghanistan Opium Winter Risk Assessment. "Poppy cultivation is not only expected to expand in areas where it already existed in 2012, but also in new areas or areas where poppy cultivation was stopped," the April document reported.Afghanistan will regain its position as the producer of 90 percent of the world's opium if there is no disruption to this year's poppy harvest.
Since NATO began its 'War on Terror' in 2001, heroin production in Afghanistan has increased 40-fold, according to the head of Russia's Federal Drug Control Service. "Afghan heroin has killed more than 1 million people worldwide since 'Operation Enduring Freedom' began, and over $1 trillion has been invested into transnational organized crime from drug sales," Viktor Ivanov said earlier this year at a conference on Afghan drug problem.
Moscow has repeatedly pushed for the eradication of poppy fields in Afghanistan as the simplest solution. NATO, however, seems to have no intention of doing so.
You can share this story on social media: