President Putin mocks US sanctions, vows not to retaliate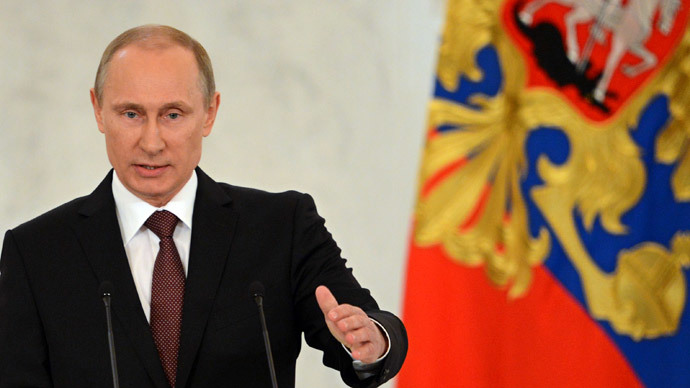 Vladimir Putin has mocked US sanctions imposed on Russia, saying he will open an account at US-sanctioned Rossiya Bank. During a meeting with the country's senior security officials he added that he won't introduce a visa regime with Ukraine.
Putin treated with irony the recent sanctions imposed on certain Russian lawmakers.
"Yes, these are those so-called 'polite people in camouflage with guns'," ironically said Putin hinting at Western accusations that Russian soldiers have taken bases in Crimea.
"Look at them, typical Moskals [pejorative term for Russians – ED.]," he added, pointing at US sanctioned prominent businessmen Arkady and Boris Rotenberg, Gennady Timchenko, head of the Volga Group and Yury Kovalchuk, the owner of Rossiya Bank. "I need to avoid these citizens as they are 'compromising the country'."
On Thursday the US expanded its sanctions list by adding 20 more names. US President Barack Obama announced a new executive order imposing further sanctions on top Russian officials and businessmen.
Aleksey Gromov, First Deputy Head of the Presidential Administration; Sergey Ivanov, Chief of Staff of the Presidential Executive Office; and Sergey Naryshkin, Speaker of the State Duma, the lower chamber of the Russian Parliament, are among those mentioned. Russian Railways President Vladimir Yakunin is also on the list.
The order also allows for measures against Russian energy, mining, defense, and engineering sectors.
Putin also commented on the latest sanction of the US authorities that concerned Russia's Rossiya Bank, to which international payment systems Visa and MasterCard stopped serving clients on Friday.
The Russian president said he will get his salary via the sanctioned bank.
"I've already said that I was going to open an account in this bank, more than that I asked for my salary to be transferred to this account," he said.
Putin added that Russian authorities should provide any possible support for the clients of the blocked Rossiya Bank, as this "finance establishment has nothing to do with Ukraine crisis."
"The clients of the bank must be taken under our protection. We also should make sure that neither clients nor the bank will sustain any negative outcome from this situation," he added.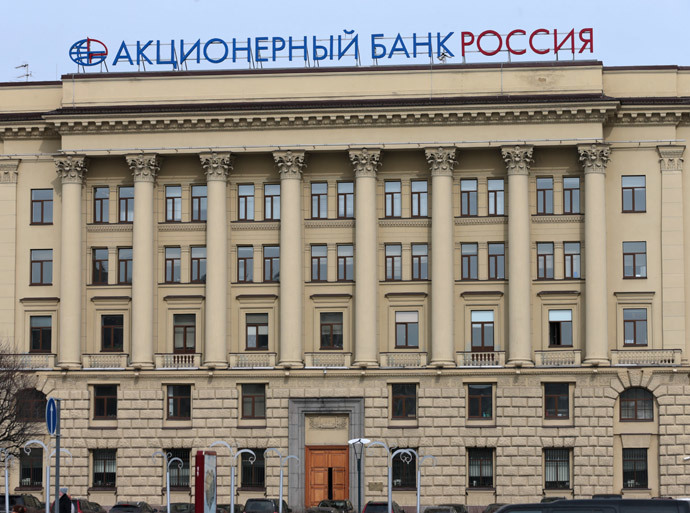 Putin assured that Russia will refrain from retaliatory sanctions against the US and introducing a visa regime with Ukraine.
Putin believes that millions of innocent Ukrainian would suffer should Russia introduce a visa regime with Ukraine.
"These people are not rich. They work in Russia to provide for their families. We shouldn't do this," he added.
Putin also said Russia will continue leading a project to repair helicopters in Afghanistan, which is run by NATO and Russia.
"We should continue this cooperation despite our NATO partners vow to freeze our partnership," he said.
The so-called helicopter project, financed by both Russia and Western countries, aims at helping Afghanistan repair helicopter equipment produced in Russia and training special personnel to operate this equipment.
Putin's statement about the visa regime came after reports this week that Ukraine might introduce a visa regime for Russians, but Ukraine's coup-appointed PM, Arseny Yatsenuk, said the authorities are in no hurry to impose it.
You can share this story on social media: