Putin runs out of timepieces at weapons factory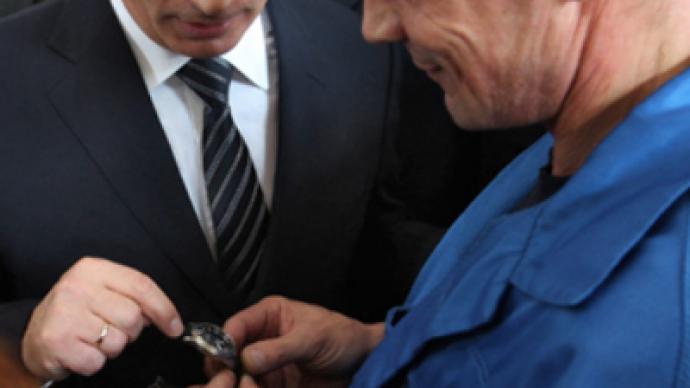 For the second time this year Prime Minister Vladimir Putin has parted with his watch. Earlier, he presented one to a shepherd's son, and this Monday he gave his new one to a weapons factory worker.
The incident described in detail by Kommersant newspaper happened during Putin's visit to Tula's famous "Instrument Design Bureau", the manufacturer of precision weapons from sniper rifles to air defense systems. The prime minister was touring the factory handling different small arms produced there and talking to employees.
One of the workers, Viktor Zagaevsky, after a conversation with Putin suddenly suggested: "Why don't you give me something for the memory."
Putin showed that he had no suitable memorabilia with him and said: "What could I give you?" Putin inquired. "Maybe your watch," the worker replied bluntly. "Take it," the prime minister said, adding that he gave a similar watch to a shepherd boy when he was on vacation in the Tyva region.
The Blancpain watch cost the head of the Russian government $6,000, as he later commented to journalists. He said he likes the model.
Zagaevsky was later asked if he felt awkward about twisting Putin's arm into giving him the present.
"Why should I? I've met the man for the first time in my life. And probably for the last time," the newspaper cites him as saying. He added he was aiming for Putin's pen when he raised the issue initially.
Vladimir Putin gave a laundry list of presents on various occasions both to officials and ordinary people, many of them quite peculiar. Those included a Christmas tree for a city in Russia's Far East on a small girl's request, Russian citizenship, Labrador pups and plumbing repairs.
You can share this story on social media: