Putin the Unknown: TV host walks & talks with Russian president
Published time: 7 Oct, 2012 21:42
Edited time: 8 Oct, 2012 01:46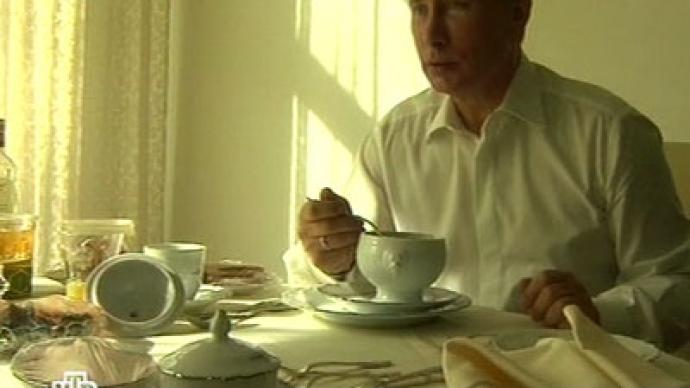 He's the best-known Russian politician in the world, but the daily life of President Vladimir Putin has largely remained a mystery to the world. That is, until now. An interview aired on his 60th birthday shows how the leader spends an average day.
­The report, which was made by NTV channel to mark Putin's jubilee anniversary, featured the day-to-day life of Vladimir Putin. It was the first time in Putin's 13-year political career that a journalist was allowed to spend several days with the president.

The camera literally followed Putin everywhere – lifting weights in the gym, swimming in the pool, and eating breakfast. The camera is rolling as the leader is driven to work and flying on the president's official airplane.

Putin starts most days around 8:30am in his residence outside of Moscow. It's an impressive time to wake up, since his job often keeps him at the office until after midnight.
Putin starts most days around 8:30am in his residence outside of Moscow. NTV channel screen shot
He heads to the gym every morning with his loyal Labrador Kony and begins his exercises with several repetitions on each machine. Then it's time for a 1,000 meter swim. After the physically demanding workout, the leader heads to the contrast shower – a process which consists of jumping into two small pools – one filled with hot water and the other with cold water.

After burning calories in pool, Putin has a nutritious breakfast, usually consisting of porridge and cottage cheese. The meals are often sent from Patriarch Kirill. Putin washes down his meals with a healthy vitamin cocktail, which he makes himself.

After breakfast, Putin makes his way to the office in style. A presidential motorcade takes him from his residence to the Kremlin. The busy Moscow roads are blocked for his commute – and because of this, his trip takes just 25 minutes.

The closed roadways do, of course, result in large traffic jams for Muscovites. But for what it's worth, Putin says he's aware of the situation and feels bad for commuters who have to spend extra time stuck in gridlock.

But Putin doesn't only travel presidential motorcade. In fact, he spends a lot of time in the air.

Upon first glance, his double-decker airplane looks more like a luxurious office than an aircraft. There is a cabinet for meetings and negotiations and a kitchen complete with staff.

The plane's cuisine doesn't differ much from food served on commercial flights. The menu often includes cheese, fish, cakes, and a main course. It's usually served on proper plates, but with plastic knives and forks.

Although the leader is constantly featured on regional and international news networks, Putin says he has little time to tune in.

He says he sometimes watches the news while at the gym, but usually receives classified information from "red folders" which are given to him by his staff.
Every day Vladimir Putin swims at least 1000 meters. NTV channel screen shot
Loyal Labrador Kony is waiting for Putin poolside. NTV channel screen shot
­
Most controversial: Pussy Riot and Mikhail Khodorkovsky cases
­The documentary doesn't only feature intimate details of Putin's life – it also touches upon Putin's insights on controversial cases like the Pussy Riot trial and Mikhail Khodorkovsky.

Putin said the three members of Pussy Riot are "talented" because they made the entire world repeat a word that is generally considered taboo.

"Actually, it was right to arrest them, and it was right that the court took the decision that it did. One cannot undermine moral foundations and break up a country. What would we be left with then?," Putin said.

Putin continued that he "had nothing to do" with the case and the verdict.

When asked about oil tycoon Mikhail Khodorkovsky, Putin said he's ready to consider a pardon "favorably and without a bloodthirsty mood."

"If this is possible within lawful procedures then, for God's sake, yes. But there is a law. He needs to appeal for a pardon himself. That is one of the ways to solve the problem," Putin said.

Khodorkovsky, along with his business partner Platon Lebedev, was sentenced to 13 years behind bars for oil theft and money laundering. They pleaded not guilty but did not make official appeals to be pardoned.
Putin keeps working on the way to the office. NTV channel screen shot
­
Presents for Putin
­Putin spent his 60th birthday with close friends and family in his home city of St. Petersburg.

But the party didn't stop there.

Putin's supporters and opponents took to the streets to celebrate his birthday in some very creative ways.

Visitors to an art exhibition titled ''Putin: The Most Kind-Hearted Man in the World'' viewed the president's most memorable moments.

Meanwhile, a pro-government youth movement in central Moscow held a sports contest under the slogan ''Do Your Best for Putin.''

Behind the Kremlin in Moscow, a group of supporters released a float resembling a cake, adorned with Happy Birthday wishes.
Pro-Putin poster saying Good that you came! Happy Birthday! Photo from Ridus.Ru / Anton Belitsky
The same group stretched a banner across a building which read "Good that you came! Happy Birthday!" They also encouraged people from around the world to take a picture with a note which said "Happy Birthday, Mr. Putin."

While Putin's supporters celebrated the leader's special day, others used the occasion to poke fun at the president.

Many brought presents to the KGB building, referring to Putin's past.

Organizers of a mass action titled "Time for Grandfather to Retire" recommended giving Putin everything a retired person might need. Gifts included a radio, house slippers, and a watering hose. Presents were accompanied with comical birthday wishes and greetings.

The "celebration" ended with several arrests.

Vladimir Putin is currently serving his third term as the Russian president. Elected in March 2000, he spent eight years in the Kremlin.

He served as prime minister for four years before being elected president again in March 2012. His current term will last six years, until 2018.
Police detains anti-Putin activist. Photo from Ridus.Ru / Anton Tushin