Putin calls Assad on Geneva-2, chemical weapons, persecution of Christians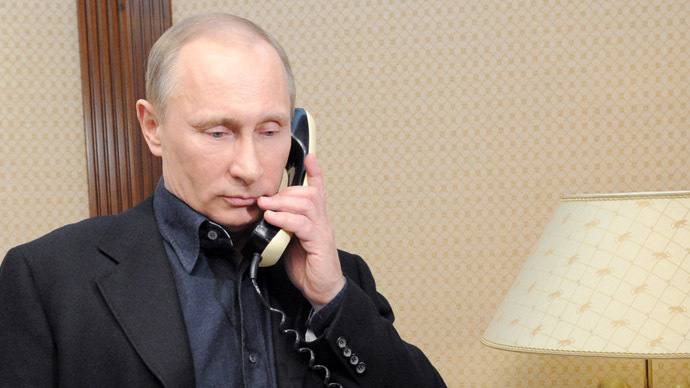 For the first time since 2011, the Russian and Syrian presidents spoke on the phone to discuss developments in the Syria crisis. Vladimir Putin called Bashar Assad about the Geneva-2 peace talks and the destruction of Syria's chemical stockpile.
President Putin called President Assad to talk about the preparations for the Syria peace talks, and to share Russia's concerns over the reports of a surge in extremist persecution of religious minorities in Syria, the Kremlin press service said on Thursday. 
The Russian President said he hopes that major Syrian opposition groups will take "a constructive approach" and participate in the peace conference in Geneva. 
Putin told Assad he was "satisfied" with Syria's cooperation with the UN and the OPCW (International Chemical Weapons Watchdog).

The presidents discussed the procedure for bringing the Syrian chemical arsenal under international control and its ultimate destruction. 
Putin said he was concerned with "purposeful persecution of Christians and other religious minorities" by extremist groups in Syria. He said Russia hopes the Syrian government "will do everything possible to relieve the suffering of the civilian population and to restore the peace." 
Assad thanked the Russian government for "aiding the Syrian people," and the two presidents confirmed they intend to foster bilateral relations further. 
The Geneva-2 peace talks, brokered by the US and Russia, have not yet been scheduled officially, although they were tentatively planned for November 23. Syrian official media recently said the date has been set for December 12, but this has not been officially confirmed.
While Russia has been pushing the international community for months to start the talks, and the Syrian government has repeatedly said it is ready to participate without preconditions, Western powers are still struggling to bring the opposition groups to the negotiation table.
Recently, the leader of the National Coalition for Syrian Revolutionary and Opposition Forces, Ahmad Jarba, told the Sunday Telegraph the group will agree to take part in talks on condition that the West ensures humanitarian corridors to the opposition strongholds in Syria. Previously, Jarba rejected the possibility of attending the Geneva-2, demanding that President Bashar Assad must go.

You can share this story on social media: