Inside Pussy Riot trial: Tweeting, doodling and depression (Op-Ed)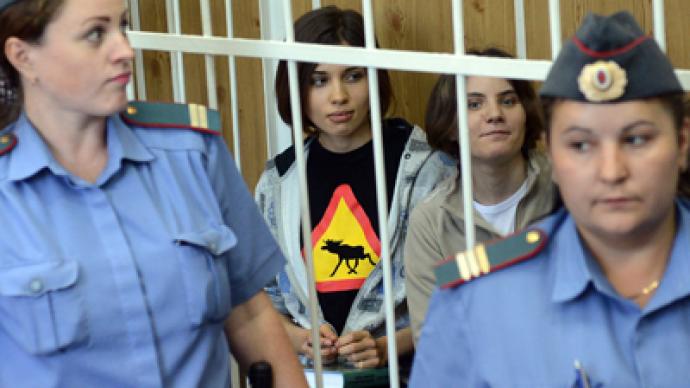 Lawyers for plaintiffs were tweeting, defense lawyers were doodling, a police dog guarding the defendants was sleeping peacefully. The gallery was bored to the extent that it started watching the bailiffs staring at their beautifully manicured nails.
"Come in, but keep in mind you have a limit today: you can only enter five times," said the bailiff standing at the entrance of Khamovnichesky Court.
"Why is that?"
"Um. You coming in and out and that distracts my subordinates from doing their work. How's that for a reason?" he smiled smugly.
"Not good enough. In our country there are no limits on the number of times people can enter courts," I replied and headed to the staircase where reporters spend hours waiting between the Pussy Riot case hearings.
The morning was quite entertaining. A strange man came in and started to sing a song he wrote about Pussy Riot:
"Pussy Riot, Pussy Riot called on Virgin Mary
Scared both the head priest and the Kremlin eagle."
The bored reporters began to write down the lyrics. "Ah, if we only sang this song all together, with the tune played on balalaika," the songwriter, who asked not to be named, sighed. No one spoke in favor of the idea, so he went away disappointed.
The time spent on the staircase in front of the courtroom seems to last forever. Not all reporters will be able to enter, so it's very crowded. Everyone is doing something: one is reading a novel, another is softly humming a tune, someone else is making very talented caricatures. Some are making bets on whether there will be a motion to recuse Judge Syrova today.
Maria Alyokhina (RIA Novosti / Vitaliy Belousov)
At the beginning of the hearing a lawyer for the prosecution, Taratukhin, surprised everyone by starting to complain about Pussy Riot supporters' unacceptable behavior. He said that after the Friday hearing they surrounded him and started shouting "Shame on you, executioners!"
"It seems that Pussy Riot supporters, who declare themselves democracy advocates, have absolutely no idea about democracy," he said. "It seems that they divide everyone into two groups – people who have the right to freedom of conscience and religion and the ones that don't."
Considering the majority of those present in the courtroom (apart from the reporters) were Pussy Riot supporters, needless to say the only person this speech could have impressed was the judge. Judge Syrova, also a target of severe criticism, nodded and sympathized, but the respite didn't last long.
Defense Lawyer Volkova had prepared yet another motion. It was quite a speech. First of all, Volkova decided to completely discredit the results of the expertise that stated which religious norms Pussy Riot had violated. The expert had made references to the Council in Trullo Canons, some of which the lawyer decided to cite as well.
"Actually, our Patriarch has breached those canons as well. For example, the 9th Canon of the Council in Trullo forbids the ordination priests before they reach the age of 30, and Patriarch Kirill became one at 23. Would you say he needs to be tried for that? And the 11th Canon forbids talking to Jews and washing in the same bathhouses as them. Why does the expert quote the Council in Trullo Canons and not other historical religious doctrines? For example, the Code of Hammurabi or the Sobornoye Ulozheniye [a Moscow State code of laws dating back to 1649]?"
The lawyer then went on to analyze the semantics of the words "shit" and "bitch", which the expert called "the lexis of rectal semantics."
Judge Syrova: "I call a break so that the lawyer can put her thoughts in order and put the motion forward in a brief manner without digressing."
Volkova: "I don't need a break!"
The judge stood up and left. That meant a break.
I called my mother right away and asked her, as a specialist in philology, to tell me about the lexis of rectal semantics that she had kept from me all these years. My mom couldn't help laughing.
Nadezhda Tolokonnikova (RIA Novosti / Vitaliy Belousov)
After the break the atmosphere turned boring and depressing. Volkova kept putting forward motions, of which she seemed to have an endless number.
The lawyers' speeches were passionate and very long. I was looking at the two female guards. They were standing next to me and staring at their manicured nails intently. One had a French manicure; the other's nails were painted red and had rhinestones on them. Embarrassed, I hid my own nails. Where do they find time to do all this? These formidable women stayed by the defendants' side all the time and were alert, content and had manicured nails. It was especially noticeable in contrast with the pale and tired Pussy Riot girls. At that moment I noticed that I wasn't the only one watching the convoy guards staring at their nails. Yes, it was that boring.
"I want to put forward a motion!" Volkova said in her authoritative voice.
"Another one?" someone behind my back asked incredulously.
Volkova put forward motions to subpoena the experts responsible for the expert conclusion used in the case and other experts, and, again, a motion to recuse the judge. The seventh one. It was clear that neither would be approved.
Amid the intense discussions the judge, apparently, lost her balance for a moment and uttered a swear word. The prosecution called the defense incompetent, rhetorically asking "Is it normal for a lawyer to be 20 minutes late for the hearing because he's busy giving an interview? And [defense] Counselor Feigin should get his Criminal Code articles straight."
Defendant Tolokonnikova said from the dock, "I'm treated like a dumb animal, I'm just the body that gets delivered to the courtroom. The court does not respect our rights! It ignores us!"
It is impossible to tell how many motions were put forward today.
During one of the breaks a reporter came up to Feigin and asked for an interview. "Just tell them it's a shitstorm," his colleague said.
Of course, almost all the motions were declined and the court had only one thing to do: question the defendants.
Maria Alyokhina, Nadezhda Tolokonnikova and Yekaterina Samutsevich all said the same thing. They told the court how Pussy Riot was created and why they performed their song in Christ the Savior Cathedral.
Yekaterina Samutsevich: "On September 24th Dmitry Medvedev announced that Vladimir Putin was going to run for president, which would result in 12 more years of what they understand as stability. This stability looks more like seizing power, and this triggered the creation of Pussy Riot. We performed illegally because opposing the authorities and asking them for a permission to do so would just be weird."
Maria Alyokhina: "Any type of expression has a form. The very definition of a punk group implies unexpected performances. Our lyrics are not slogans, they're a form of expression, and the baseness of the language is an experiment, a satire of sorts. We like absurd notions, Your Honor, even in terms of this trial. The prosecution alleges that we were motivated by hatred. But where is this hatred? We can admit we've made a mistake and apologize, but you walk all over our apologies. We don't feel any hatred, our motivation was and is pure."
Yekaterina Samutsevich (RIA Novosti / Vitaliy Belousov)
Nadezhda Tolokonnikova: "I was outraged at the Patriarch saying that 'Putin has fixed the crookedness of history.' The phrase resembles what [Deputy PM Vladislav] Surkov or [Chechen leader Ramzan] Kadyrov said about Putin's power being God-given. I maintain that our motivation was political. The prosecution and the court ignore it, trying to interpret our actions as motivated by religious hatred and hostility. We haven't done anything aggressive or violent, and we haven't insulted either God or religion. The phrase 'holy shit' means that there is something very unpleasant happening, which is how we feel about what's going on in our country."
Well, all the witnesses have been called, the defendants made their statements. What remain are arguments in court, the verdict and any subsequent sentence.
The defense lawyers coming out of the Khamovnichesky Court were greeted with applause. It's not surprising since there are always Pussy Riot supporters in front of the court, and today just one sad man was standing several paces away, holding a poster that showed he was against Pussy Riot.

PS A police officer caught up with me unexpectedly and asked, "Listen, why are your colleagues, and others who run around tweeting things, such jerks? Why do they always yell? They applaud these defense lawyers but scream terrible things at others, yell at us, why?"
I said: "Listen, you cannot be serious. Journalists are all different. You guys, Special Forces I mean, are different also, right? Policemen are all different, as well as doctors, teachers, priests… we are all different. You kicked someone downstairs yesterday… So don't tell me…"
I left and then remembered how on Friday one liberal young woman yelled at one of the officers, maybe even this one: "You listen to me, listen to us – highly-educated, smart people who make good money…"
The officer quietly replied, "Well, educated people don't behave this way."
Later another "fighter against the bloody regime" acted like a jerk in court, when they refused to let him into the hearing. He was then removed from the building rather roughly and the internet went berserk about the police abuse in the court building. And nobody bothered to mention that the man was saying rude things, and that he had already been removed from the courtroom before for blatantly taking pictures, which is not allowed. That's why they wouldn't let him in.
I felt a little embarrassed when I remembered that. Apparently Counselor Taratukhin was right when he said this morning, "Some people here who present themselves as fighters for democracy have no idea of what democracy really is."
I guess that's why the bailiffs in the courtroom started taking pictures of how journalists entered the courtroom and how they behaved in the hallways.
Outside the court building I saw a policeman sitting on the curb and discussing with some pro-Pussy Riot protesters what an outrage our court system is.
And don't tell me that this is not surreal.
­Lidia Vasilevskaya for RT