Protesters rally against Gitmo at US Embassy in Yemen (PHOTOS)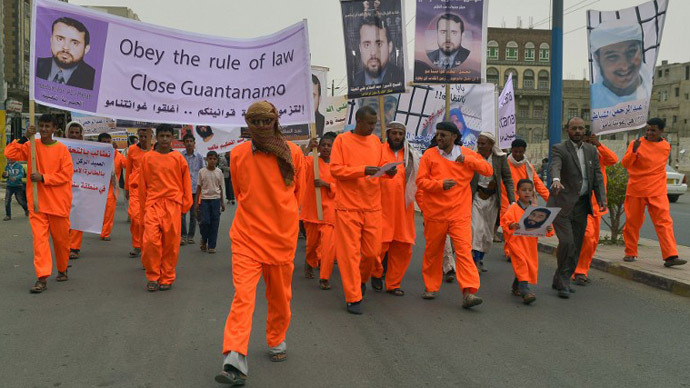 Hundreds have rallied in front of the US embassy in the Yemeni capital of Saana against American operations at the Guantanamo Bay prison camp amid an ongoing hunger strike and the Obama administration's failed promises to close the facility.
The demonstrators, many of whom were relatives of Gitmo prisoners highlighted the failure of the US government to fulfil its obligations to close the prison in Cuba. Activists have also gathered to draw attention to the deteriorating state of health of many prisoners who have been on hunger strike since February.

The protesters, many with pictures of their loved ones in captivity also call called for immediate release of Yemenis who were cleared while insuring speedy and fair trials for those who have not yet experienced the US justice system.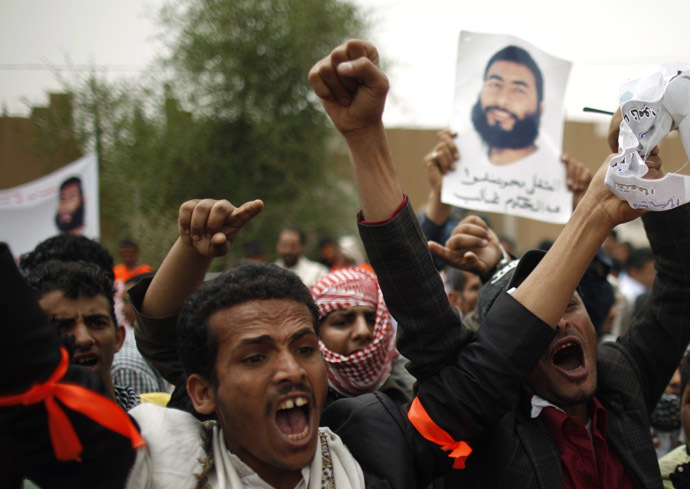 What is unusual about Monday demonstration in Sanaa, is that it included a group of Americans that traveled to Yemen as a peace delegation, organized by CODEPINK women-initiated grassroots peace and social justice movement. The delegation's purpose was to meet with victims of US drone strikes and family members of Yemeni Guantanamo prisoners cleared for release.

Currently Guantanamo holds some 166 prisoners. Eighty six of those held are Yemenis with 56 of them cleared for release.

"We absolutely need to close Guantanamo Bay Prison," said Colonel Ann Wright of CODEPINK and Veterans for Peace. "President Obama can take action by immediately releasing the 86 prisoners who have been cleared for release, then formally charge and try the remaining prisoners in fair and open proceedings," quotes commondreams.org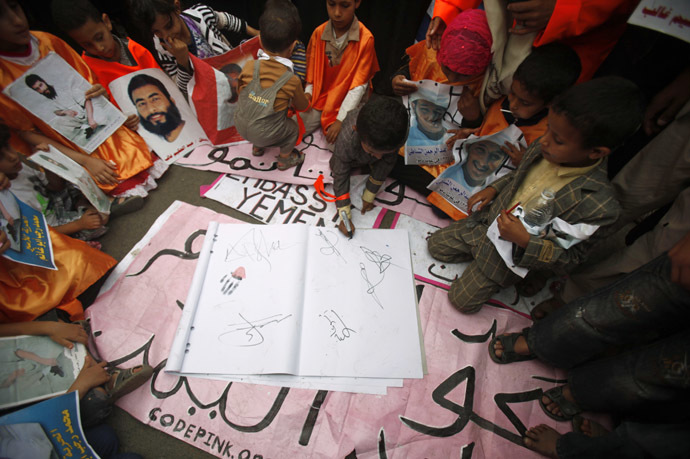 Meanwhile the defense team of five prisoners accused of carrying out the 9/11 attacks, Khalid Sheikh Mohammed, and four co-defendants have requested International Committee of the Red Cross reports about the defendants conditions at the Guantanamo camp, as lawyers fear they might hinder defendants' ability to help prepare a defense.

Fears of mistreatment at the camp are on the rise as some 100 inmates are engaging in a four-month hunger strike to protest the failure to resolve their status for over a decade.

Guantanamo Bay's medical team is now force-feeding over 40 prisoners at the US detention facility. With two detainees hospitalized, the strike shows no signs of ending a month after President Obama again pledged to close the base.
Also on Monday, Washington has disclosed the identity of 46 "indefinite detainees" that are being held in Guantanamo. These are men that are considered dangerous for release.  

The information provided to the Miami Herald and New York Times under the freedom of information requests includes 26 Yemenis, 12 Afghans, three Saudis, two Kuwaitis and Libyans, a Kenyan, Moroccan and a Somali. Two people on the list both Afghans have died in the camp, one by suicide, one of a heart attack.

The disclosure of the list comes a day after the US state department revelation of the appointment of Cliff Sloan, a special envoy to Guantanamo tasked with closing the camp down.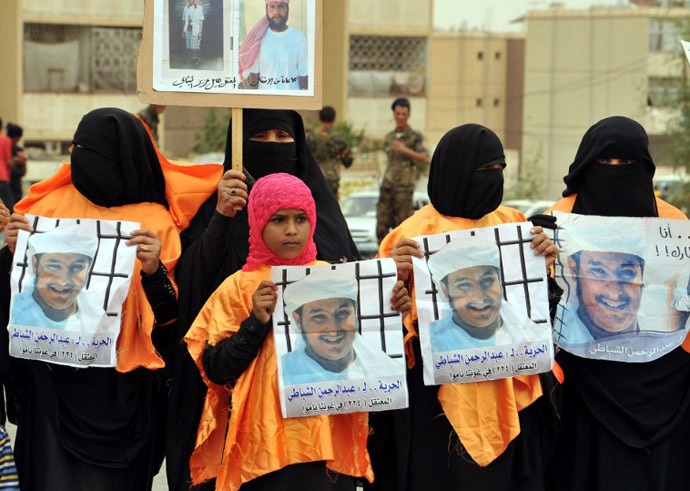 You can share this story on social media: