'Disobedience 2014': Mass protest calls for an end to austerity in Spain
Around 4,000 people have staged an act of "mass civil disobedience" in the Catalonian city of Barcelona. Protesters hurled projectiles at police and set fire to bins, while officers beat some activists with batons in an effort to control the crowd.
Thousands gathered in the center of Barcelona in an event the organizers dubbed "Disobedience 2014" in protest of government austerity measures. The protesters marched under a large banner saying: "Disobedience 2014. They can't control us if we disobey. Let's stop [Justice Minister Alberto Ruiz-Gallardon's] laws!"

The demonstration turned violent when the police moved in to try and stop protesters from reaching Barcelona's Cataluna Square. Activists tussled with police, while others smashed the windows of banks and financial institutions and set fire to bins.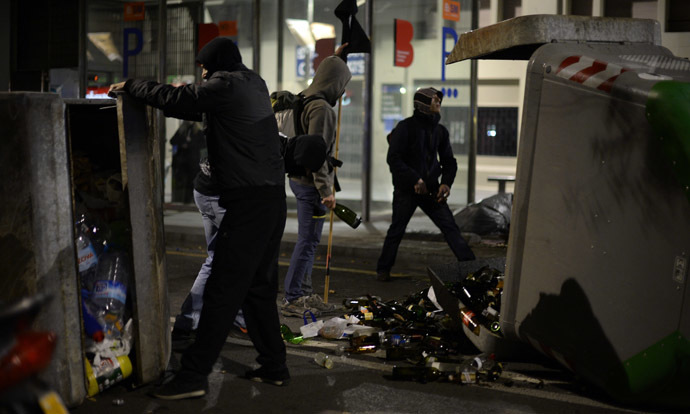 The idea behind the demonstration is to protest austerity and cuts through "acts of mass civil disobedience," one of the organizers told Spanish newspaper La Nacion.

"Through disobedience we will rebel against a system that is dragging us into an abyss and replace it with one that respects people," said Luis Lopez who was holding a flag representing a Spanish anarchist group.

The demonstrators also focused on several law reforms that they regard as affronts to their rights as Spanish citizens. They include new legislation that would radically restrict the right to protest and an amendment to abortion law that would allow the procedure only in case of rape or serious risk to mother's health.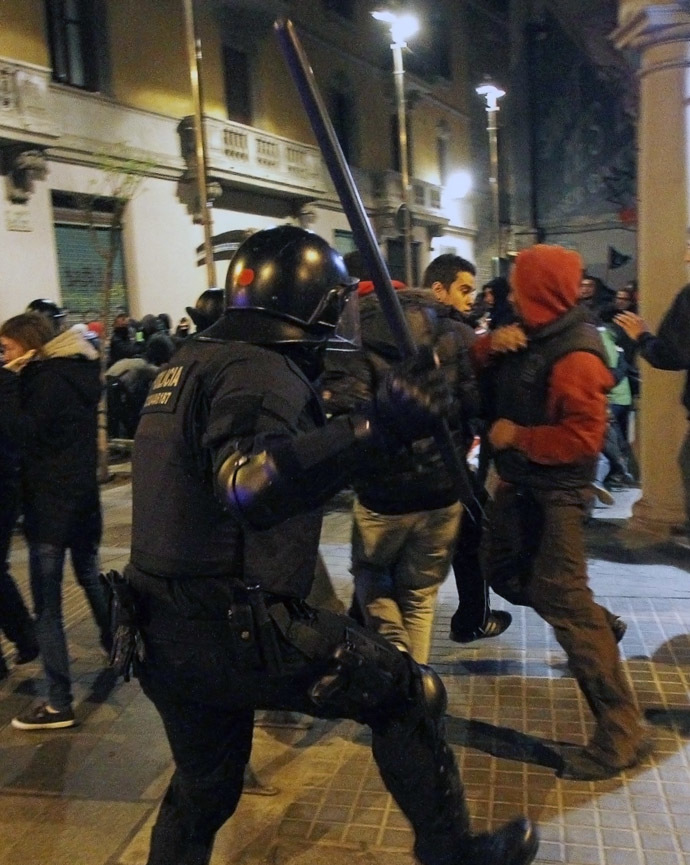 Spain's capital city also witnessed protests this weekend, with around 100 people gathering in the center of Madrid calling for the disbandment of the monarchy. Police dispersed activists who had gathered in Neptune Square under the banner, "Checkmate to the King!"

During the dispersal of the protests, one of RT video agency Ruptly's cameramen was attacked and injured by policemen. Journalist Mario Munera said officers pushed him to the ground and beat him with batons. Following the demonstration, he had to seek medical attention in a nearby hospital. One person was arrested in the protest and eight were reportedly injured.
The Spanish police said that both of the protests were illegal as their organizers did not inform the authorities of their itineraries.

Last week Spain witnessed some of its worst protesters violence since the onset of the financial crisis during a so-called March for Dignity in Madrid. Police arrested at least 29 protesters following the clashes which took place after the march. According to emergency service, 101 people were injured, including 67 police officers, El Mundo newspaper reports.

The organizers of the event told RT that the Spanish government is trying to push Spain back into the Franco era with reactionary reforms.

"What the government wants is to go back to the Franco years and keep the working class from demonstrating in the streets and saying what our main problems are. We won't allow that to happen and they know it," Pepe Caballero, one of the march's organizers, told RT, adding that the protest movement will change Spain from the "bottom to the top."