Protest in Moscow against Estonia's WW II monuments bill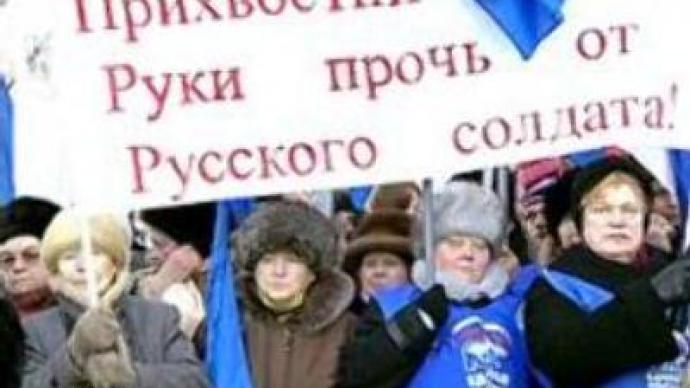 Around 2,000 youth activists have held a rally in central Moscow protesting against Estonian parliament's plans to demolish monuments to Soviet soldiers, allowing digging up and reburying remains of Soviet soldiers in Estonia.
The demonstrators chose the statue of Georgy Zhukov, the most renowned Soviet commander in WW II, as background for their rally.
"If the monument is dismantled,"
says Dralova Olga, Commissar of "Nashi" youth movement,
"we are going to go to Tallinn and stand there day and night to tell people there that Russians remember the history and the sacrifice of those who defended us."
"This is a memorial to a Russian soldier who liberated Estonia,"
adds one of the protesters.
"They lost their lives, and we have to protect the dignity of our ancestors."
But Estonia's Prime Minister Andrus Ansip backs the decision to have the monuments moved.
"Memorials should unite people,"
he said.
"But this particular monument in this particular place divides society, and I am convinced it should not be there." "This is an internal law that is not directed against any state or any war monument in particular,"
maintains Estonian Ambassador in Russia, Marina KaljurandIn response, Russia's State Duma has outlined sanctions it will impose against Estonia if it goes ahead while the Federation Council appealed to Estonian officials. Meantime in Strasbourg the Head of the Duma Foreign Affairs Committee, Konstantin Kosachyov, will raise the issue with the Parliamentary Assembly of the Council of Europe.

"We're really concerned about what is going on in Estonia,"
he says.
"It is not about just one funeral, about one monument. It's about redrafting history."
In the wake of the ongoing crisis Estonia's parliament is considering an amendment which would transfer the authority to relocate monuments from the local administration to the courts.
You can share this story on social media: