'Obama benefits from ongoing rage'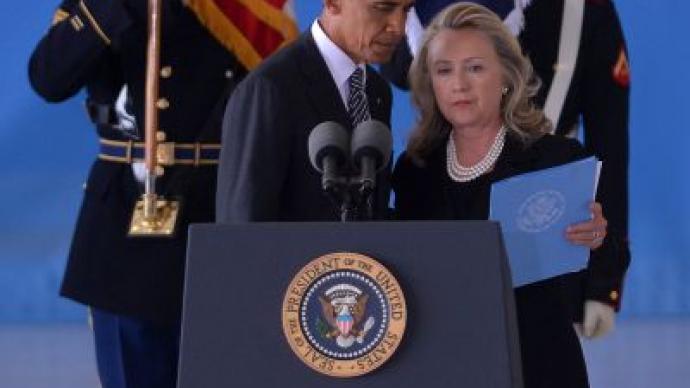 As new anger towards the United States spreads across the Muslim world, President Obama's election campaign could greatly benefit from the turmoil, author and journalist Afshin Rattansi told RT.
The ongoing protests could be just the issue to convince undecided voters to choose a Democrat, as swing electorates see Romney as having no foreign policy credentials, Rattansi says.For now, China and Russia can play a decisive role in stopping the ongoing, deadly protests across the Muslim world.RT: Where are America's diplomatic relations going to go from here, when these protests eventually subside?Afshin Rattansi: It is interesting that they keep saying it was the first ambassador to die in office since 1979, that was Adolf Dobbs killed by Maoists – a very different killing of that ambassador, this time around. Now 20 different countries… terrible to hear about the deaths of people ostensibly over this ridiculous film, but that is where the diplomatic relations lies. Any of those governments, is it 20 countries that are now reporting violence on the streets? The leaders of those counties will be indeed telling Washington if they indeed have relations with Washington. It seems that the chicken is coming home to roost.RT: Could this situation have been averted?AR: It is very difficult to see how this could have been averted. The people who made this film obviously designed this to happen. You do not shout "fire" in a crowded theater. The crowded theater is in effect the whole Arab world, the global south – countries that have been devastated for centuries from colonialism and of course decades of American imperialism – and more particularly, Obama's policies in the last five years, being so debilitating to so many millions of people. So it is very difficult to see how Washington would respond.RT: A number of people have been killed in violent clashes within the past couple of days, with no sign of the anger letting up – what do you think, ultimately, these activists are trying to achieve?AR: Is it really activists? I think it is a general fury of the people, so far the 20 countries, against the US policies of so long. So this is not the case of activists as such; this is a broad array of people that detest US imperialism and we can expect more and more to follow. And more catalysts, whether it will be a crazy film or another one of President Obama's or, who knows, perhaps President Romney's crazy foreign policy ideas. Because he will not be the only diplomat, presumably, to be targeted, and it is not a good time for US diplomats around the world.RT: Washington is quick to condemn material that offends Muslims, but was also responsible for promoting the use of social media across the Arab Spring in those countries, which gave the offensive video an audience in the Middle East and North Africa – I wonder how much the US considered its policy could backfire? AR: It was not the US government that made this film. They were very quick to say they condemned it. But it just goes to show that there is no easy way out now for the United States. I supposed the easiest way could be if China and Russia called in an emergency UN Security Council resolution if the fighting does not cease in these 20 countries-30 countries. It is the entire global South. There will be demonstrations in Bolivia let alone in Pakistan, Nigeria right up to Bangladesh and so forth. So Washington is facing a big problem.  Some say Obama will benefit from a degree.RT: Why will President Obama benefit?AR: Because some parts of the swing voters may say Romney does not have foreign policy credentials, I know that any credentials are difficult with Romney, but people do presumably see that Obama has a greater grasp of  foreign policy. All these kind of ideas in the liberal media, in the swing media, the media that swings those votes, are all important as to who wins the next presidential elections. But it could get much worse. I'm not sure who it will benefit in the US elections, but as far as Washington is concerned, more generally, its an attempt to send drones out and these US Marines FAST teams out to Libya.