A million and one problems for IMF to solve on Lagarde's watch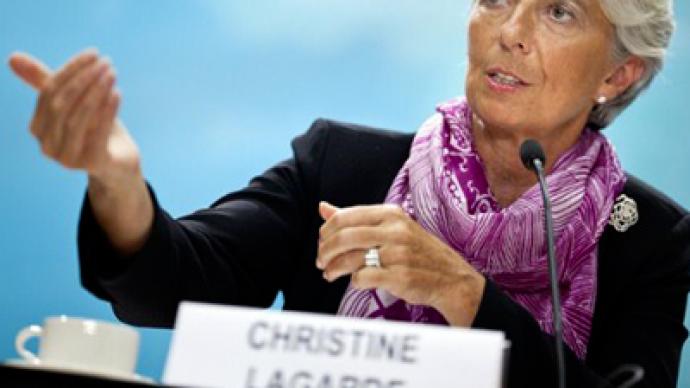 The cash-strapped EU is giving Christine Lagarde much to think about in her first days in charge of the International Monetary Fund (IMF).
She told reporters she is picking up the baton from Strauss-Kahn to deal with the problems and reforms that began under him.The world Chirstine Lagarde inherits is a turbulent one.From violence on the streets in the Middle East, to protests in North Africa to Europe, where Portugal's credit rating has been deemed junk. In Greece unemployment hovers at about 16 per cent and the debt crisis has sparked anger. Nearly all of the anger stems from poverty and failed economic policies. In the US as well, high unemployment sits atop a mountain of problems like the housing crisis and slow financial growth.In her first formal meeting with the media at the IMF headquarters, Lagarde seemed optimistic. "The International Monetary Fund is here to serve and to provide service to its 187 members," she assured.It is not the sexiest of news stories, but still, the inaugural press conference for the new managing director of the IMF garnered quite a bit of media attention.  It most likely had less to do with Christine Lagarde herself and more with the reason why her predecessor had to leave early.Dominique Strauss Kahn was accused of attempting to rape a hotel maid in New York.  That case has now starting to crumble after it turned out the maid had credibility problems.Lagarde did her best to stay on message during the media event:"We cannot be only driven by the hope to reduce fiscal deficits and organize fiscal consolidation in a big way. Whether you look at advanced economies or whether you look at emerging markets or low income countries, the issue of employment is a critical one," she said.The 187 nation organization has already lent $160 billion to cash strapped nations, many of which have little hope of paying it back.The real questions are manifested on the streets of some of the countries suffering the most, where accepting the money has been presented as the only option. Austerity measures are being put into place there, causing public uproar.Another question is the dollar and how its value may or may not change under Lagarde's watch. Managing the debt crises around the world will fall at the top of her agenda as the rest of the world watches with hope for stability in an unstable world.