Problem with journalists protest in Minsk believed to be solved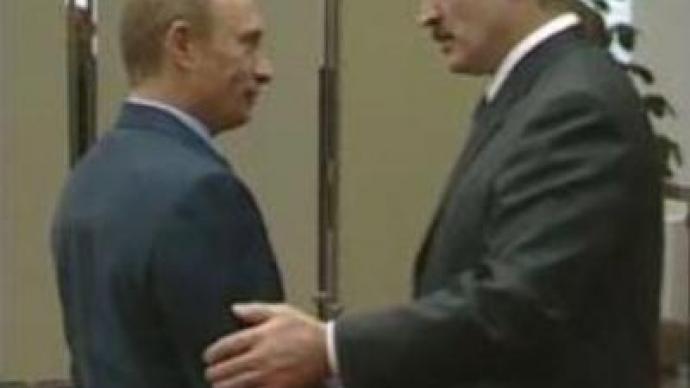 Russian President Vladimir Putin and his Belarussian counterpart Alexandr Lukashenko believe they have solved a problem at the CIS summit in Minsk, which caused all 70 Russian journalists present to leave the talks.
The move was a protest against Belarussian authorities who refused entry to three Russian reporters.Vladimir Putin said that:
"We did not discuss the problem in much detail; President Lukashenko told that was some kind of misunderstanding, some kind of technical problems; that was he told me. I think we can do something to work it out."
Apart from the talks with Lukashenko, President Putin has also met Georgian president Michail Saakashvili. The one-to-one talk with the Russian president was initiated by Georgia. According to Georgian President, the meeting was useful.
"We had an opportunity with the Russian president both at an expanded-format meeting and one-on-one to discuss all the main issues and problems surrounding Georgian-Russian relations. I think the Russian leadership understands very well the importance of normalizing relations with Georgia,"
said President Saakashvili.Georgian President added that the process of maintaining the dialogue between Russia and Georgia is in the interests of both countries.
Furthermore, President Putin has talked to the President of Moldova Vladimir Voronin, and agreed to lift Russia's ban on Moldovan wine and meat products which was imposed because of poor standards.Moldovan meat was barred from Russia in April 2005 and in March this year imports of Moldovan wine were also stopped.Moldova has reviewed the quality of its produce and export companies have also been monitored.Russia has traditionally been a market for Moldovan wines. The concern is whether the quality of the wine would meet the demands of Russian consumers. Not many restaurants are offering Moldovan wine to their customers because until now the quality was not high.
"The meeting with the Moldovan president Vladimir Voronin was more detailed and substantial,"
said the Russian President Vladimir Putin, talking to journalists about all the meetings he had had with other CIS leaders.
You can share this story on social media: