Pro-Kremlin activists take to streets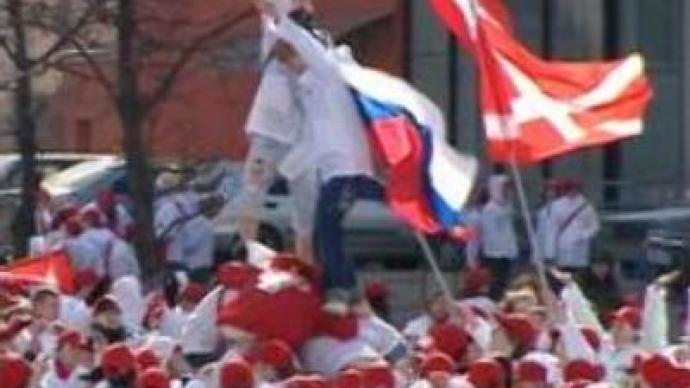 A large rally organised by the pro-Kremlin Nashi youth organisation has been held in central Moscow. The gathering attracted thousands of people. Young activists called on those of their age to be more politically active.
Nashi hit the streets of Moscow in a festive rally to celebrate the past 7 years of Vladimir Putin's presidency and to talk about what's in store for Russia. The organisation claims 10,000 turned out for the event but to the eye it looked like much fewer.Songs, dance, and text messages were on the menu. The public had a chance today to send SMS messages to the president and see them on a large display at Pushkin Square. Nashi made it clear they believe Russia's future is in the hands of the youth.
"Young people need to decide how they want to live tomorrow. We need to decide today what we want. And we're going to ask people what they want to see for Russia in the future,"
says Aristov Stanislav, Nashi activist.Nashi call themselves Putin's generation, most of them aged between 16 and 25. They are pushing for democracy and stability in Russia, and their plan is to go out into the streets and try to get people to be more politically active.Previous Nashi events have been criticized as PR stunts on behalf of the party they support – United Russia. And many expect this one will be dismissed as a publicity attempt as well.
"There are those comments that this rally is just PR, that we are here for any other reason than to convince young people to be politically active. It is just not true, we want Russia's youth to decide the country's future,"
said Zaeida Usmanova, Nashi activist.
You can share this story on social media: