Hard cell: UK prisoners must work for perks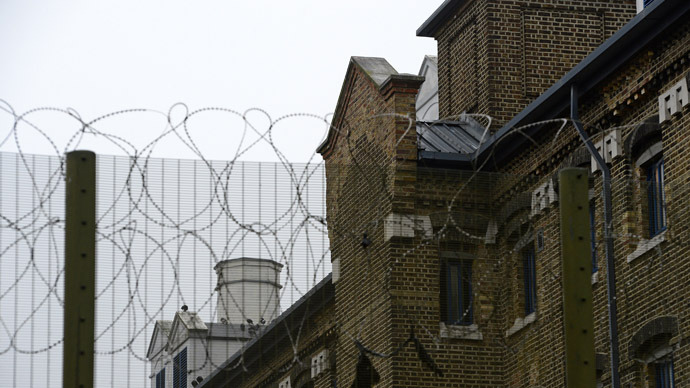 Under new government guidelines, inmates must earn their right to privileges, like gym membership. Some campaigners for penal reform say that the plans are "redundant" and "unfair", and that there should be more focus on providing activities in prisons.
The current scheme in prisons in England and Wales allows inmates to get privileges like a TV in their cell, gym access and to be able to wear their own clothes.
But the Incentives and Earned Privileges (IEP) schemes to be introduced from November the government wants inmates to take part in work and education programs as well as observing behavior rules in order to earn the perks they currently take for granted.
All prisoners entering prison will be on a new entry level where in the first two weeks, perks will be restricted.
After the two weeks are up, inmates who have not co-operated will drop to basic level while those who do will progress to standard level.
The scheme is designed to allow prisoners to work up specific levels of privilege. Those who adhere to the best behavior will reach the enhanced level of privileges.

The three levels of privileges to be introduced into UK prisons:

1.  Basic – minimum entitlements of prison rules. Includes visits, work, education treatment and rehabilitation programs, religious services, access to prison shops, exercise and association with other prisoners but no TV in cells.

2.  Standard – more visits than on basic level, more time to socialize with other prisoners, TV in cells and higher rates of pay for work and higher allowance of private cash.

3.  Enhanced – priority consideration for jobs that pay more money, more time to socialize with other prisoners, extra visits, greater volume of standard level of privileges.
Chris Grayling, the Justice Secretary told the UK media Tuesday that it is not right that some prisoners appear to be spending hours languishing in their cells and watching daytime television, while the rest of the country goes out to work.
He said that for too long there has been an expectation that privileges are an automatic right and given as a reward for staying out of trouble.
He added that while on the new entry level all prisoners will be required to wear uniform and that all inmates will have to work a longer day.
Mr. Grayling said he believed that only by tackling bad behavior, getting prisoners to take part in work and education programs and by dealing with drug and alcohol issues, can reoffending be cut.
Prisoners will also be barred from watching 18 rated-films and private prisons will no longer be able to offer prisoners cable and satellite TV. 
Responses from penal reform groups and think-tanks were mixed. Juliet Lyons from the prison reform trust told Sky News that tough words should not be confused with effectiveness.
She said it will not help to reduce the unacceptably high reoffending rates and added that the review should be a chance to ensure that people sentenced to custody are enabled to take responsibility for their lives and lead a law abiding life on release.
While Andrew Neilson from the Howard League, a penal reform group, told RT that there was already a lack of purposeful activity in prions and so today's announcement is "all rather redundant" as well as being "grossly unfair".
"If the government wants prisoners to engage in purposeful activities, they need to supply them in the prions. There's been a string of inspection reports criticizing jails for a lack of such activities and work," he said.
He added that the prison system in the UK is overstretched and that the number of prisoners has doubled since the mid 1990's, with many inmates doing time for non-violent crimes of an unserious nature who he argues "don't need to be there".
"Either the government spends the money on new prions and facilities, which it doesn't have at the moment, or else they need to think seriously about reducing prison numbers," he said.
But Max Chambers from the Policy Exchange, a center-right think tank, said that the announcement was the right move.
"Gym privileges and in-cell perks really matter to prisoners. So it's right that we do everything we can to gear the new system around real behavior change, rather than just thinking about what will keep prisoners docile and compliant," he said.
Former prisoners themselves were skeptical of the announcement. Abdulla Choudhury, who was released in 2011 after serving 13 years in prison, rejected the notion that life in prison was easy and pointed out that those who have less opportunity to earn money in prison would be more likely to sell drugs.
"They should focus more on training so prisoners can get jobs when they leave prison," Choudhury, who now works for the young offender's charity User Voice, told the BBC.
While Noel 'Razor' Smith pointed out that it was easier to buy heroin on most prison landings than on the streets and that if anything the justice secretary should worry about drugs in prions.
You can share this story on social media: