In shining armor: Apache-piloting Prince Harry to 'help oust Assad'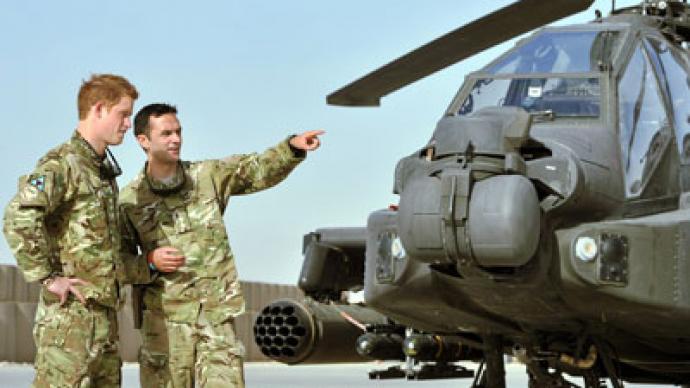 Recent UK speculation that Syria is preparing to use its chemical weapons – which would result in foreign military intervention – has taken a Hollywood twist: Prince Harry, an Apache pilot stationed in Afghanistan, could join the fight against Assad.
"The prince is lined up to help go in and oust Assad with the Apache squad," the Daily Star quoted a government source as saying.Prince Harry would allegedly join the fight if NATO were to deploy its forces, including UK Apache helicopters, inside Syria."Should Britain and the Americans put troops in they will need top cover," the source added. "The best we have are the Apaches. This is all top secret. Assad would go berserk if NATO crossed into Syria."The secret 'Harry plan' was revealed after the UK echoed US claims that the Syrian government may soon use chemical weapons on its own people. These claims have been denied by the UN.Following the allegations, Damascus declared it would never use chemical weapons against Syrians, and cautioned of the potential dangers of such armaments falling into the hands of  "terrorist groups."NATO has inched closer to taking action against Syria over the last month. This past week, NATO foreign ministers voted to approve Turkey's request for Patriot missiles to be deployed on the Turkey-Syria border over fears that Syria could attack with missiles and chemical weapons. Several hundred NATO servicemembers will also be stationed in Turkey to service the missile systems.The move could spark a number of incidents on the Turkey-Syria border, prompting further NATO involvement in the Syrian conflict.Prince Harry in the Taliban's bulls-eyePrince Harry is currently stationed in Afghanistan as an Apache helicopter pilot for support missions.In September, the Taliban carried out a large-scale attack on the Afghanistan base where Prince Harry was stationed. Harry was not in danger at the time of the attack, as he was two kilometers away from the base."We have thousands of attackers ready to give up their lives for the Prophet Mohammed and kill the prince. That is our intention. They come from all over the world – from England, Pakistan," Taliban spokesperson Qari Yousef Ahmadi told the Daily Star. Harry's previous deployment in Afghanistan more than four years ago was cut short when the media revealed his whereabouts.
You can share this story on social media: