Press crackdown: Egypt's Morsi slammed for censorship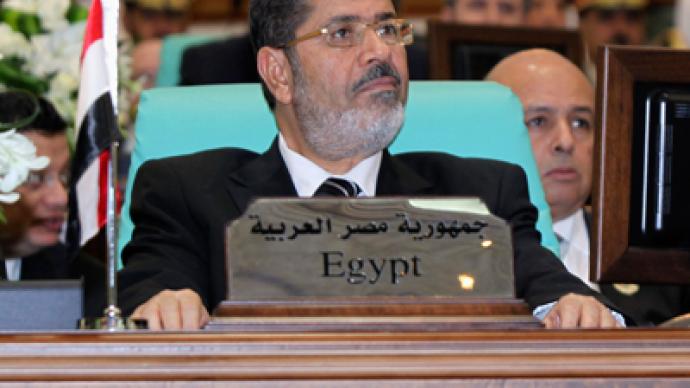 Egypt's president has come under fire for censoring news outlets over charges of 'fueling sedition.' The ruling Muslim Brotherhood party's move to stifle critics has sparked fears they are adopting the repressive tactics they pledged to abolish.
State prosecutors filed lawsuits against two journalists this week, and an entire issue of opposition newspaper al-Doustour was pulled by state censors. NGO The Appropriate Communication Techniques for Development Group decried the move as a "severe blow to public freedoms that strike warning bells about the rights and freedoms in light of the choice of chief editors of national newspapers," the group said in a report released on Friday.Critics argue that the censorship is reminiscent of the press repression employed by ousted President Hosni Mubarak.The NGO report evaluated President Mohammed Morsi's overall performance since assuming the presidency, and slammed his policies that "crack down on the freedom of opinion and expression" as a reversal of his pledge to improve freedom of speech in Egypt.Victoria Nuland, spokesperson for the US State Department, said on Thursday that Washington was "concerned by reports that the Egyptian government is moving to restrict media freedom and criticism in Egypt."Morsi's government rebuffed critics, arguing that the move was aimed at suppressing media reports that incite violence, lead to a disruption of public order and personally insult the newly-elected president."Those who filed the complaints against the journalists with the public prosecutor are not all from the Brotherhood. There were also ordinary people upset about the disgusting insults that some media have been publicizing," Muslim Brotherhood spokesperson Mahmoud Ghozlan told Reuters.Charges were brought against al-Dostour editor Islam Afifi for allegedly insulting President Mursi inciting readers to attack Egypt's new government. The second journalist implicated in the crackdown was al-Faraeen TV presenter Tawfiq Okasha, who was accused of insulting Morsi and calling on viewers to kill him. Al-Faraeen was taken off the air at the behest of the prosecutor.
Same old story?
Many lost hope for greater press freedom under the Muslim Brotherhood control when Salah Abdul Maqsoud, a Brotherhood party member, was made head of the Ministry of Information. The Ministry closely monitors Egyptian state media outlets, and many had hoped the new government would dissolve the ministry and replace it with an independent body.Following Maqsoud's appointment, a selection committee tasked with choosing new editors for state-owned media was established, and was widely criticized as being controlled by Muslim Brotherhood affiliates. None of the new editors are Brotherhood party members, but Egyptian journalists allege they are sympathetic to the ruling party.Some newspaper journalists left the spaces for their columns blank to protest the instatement of the new editors."This white space… is in protest against the Muslim Brotherhood's conquest over the newspapers and media outlets that belong to the Egyptian people," a columnist wrote on August 9 in the al-Tahrir newspaper.
You can share this story on social media: