Presidents of USA and Brazil begin joint speech on trade and energy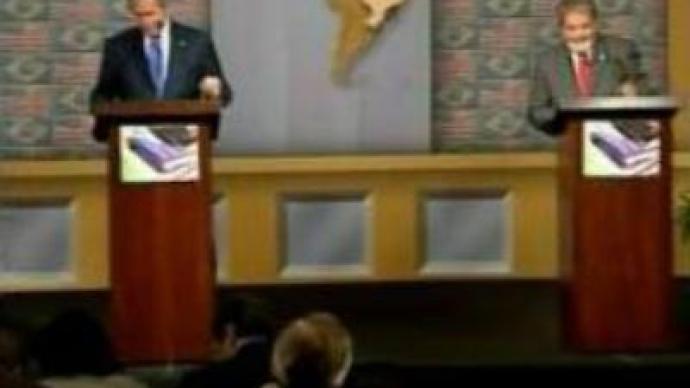 U.S. President George Bush and Brazilian President Luis Inacio Lula da Silva have begun a joint speech on the issues of trade and energy. Mr Bush is on a week-long visit to Latin America to discuss increasing alternative fuel.
This fuel, according to Mr Bush, will create more jobs, a cleaner environment and greater independence from the oil market.The American President is expected to sign with his Brazilia's counterpart an ethanol energy alliance. Together with Colombia, Brazil produces about 70% of the world's ethanol, a bio-fuel made from sugar cane or corn.Meantime, the first day of the U.S. President's visit was marred by rioting in the Brazilian city of Sao Paulo.18 people were injured when police and demonstrators clashed in the city's financial district.Witnesses say police fired tear gas after they were attacked by radical demonstrators.By throwing rocks, fireworks and so-called "potato bombs" at the 4,000 police patrolling the streets, protesters demonstrated their anger at what they considered excessive U.S. influence on Latin America's economy.The protesters also showed their anger at the war in Iraq.
You can share this story on social media: