Presidential Regiment parade in Moscow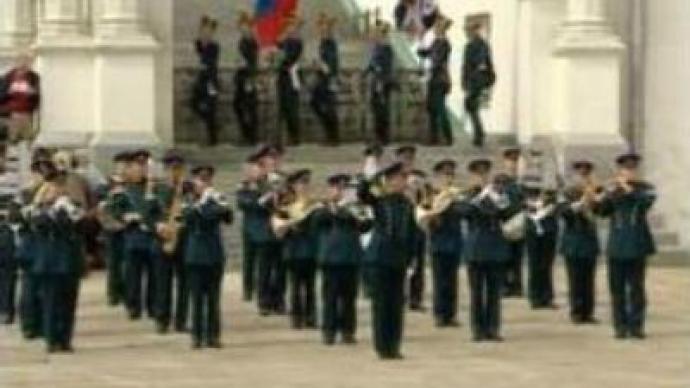 Russia's special military unit, the Presidential Regiment, has held a traditional parade at the Kremlin's Cathedral Square in Moscow. Long-serving soldiers marched with new recruits.
With the first sounds of a 19th century military march, soldiers of the Presidential Regiment appear at the Kremlin's Cathedral Square. The guards of honour came first carrying the Russian tricolour. The head of the guard greeted the regiment and the ceremonial display began.For the first time the military performance at the Kremlin's Cathedral Square in Moscow was devoted to Child's Protection Day as 2007 has been named the Child's Year in Russia. After the parade by the officers of the country's special military unit, seven-year-old horsemen took to the stage to show off their skills.It was the first time the Kremlin riding school's young students, in uniform resembling the imperial guards, have performed before hundreds of spectators.After the parade, the winners of a large-scale children's drawing contest were announced. Three best works were chosen from 15,000 entries from all over Russia. It was a day when children's dreams came true: after stuffing themselves with free ice-cream and lemonade, they went to see the most mysterious building – the Kremlin – inside.
You can share this story on social media: