'Our marriage is over': Putin to divorce wife of 30 years
Russian President Vladimir Putin and his wife Lyudmila have announced their decision to divorce after nearly 30 years of marriage. The scrutiny a national leader experiences is a hard burden for anyone to bear, Putin explained.
"It was our joint decision, our marriage is over," President Putin said in an interview with state TV channel Russia24. The announcement was made at the Grand Kremlin Palace after the two attended a ballet performance of 'Esmeralda.'
The divorce is the first of its kind for modern Russia. Previously, no top Russian figure, let alone the country's leader, would have dared to make such a move.

The Thursday ballet was the couple's first joint public appearance in more than a year. "We practically do not see each other. Each one lives life of his own," President Putin said.

Asked to confirm the divorce, Lyudmila Putina stood by the president's side and told the media, "Yes, you can say that, this is civilized divorce." She went on to say they "will always be friends," and that she is "grateful that he supports me."
President Putin elaborated on his decision: "All my activities, all my work is being done in the public sphere, with absolute publicity. Someone would like it, someone would not, but some people are just absolutely incompatible with this," he said, adding that his wife had been "standing the watch" for nearly nine years.
"I do not like publicity, and the flights are complicated for me," Lyudmila Putina explained.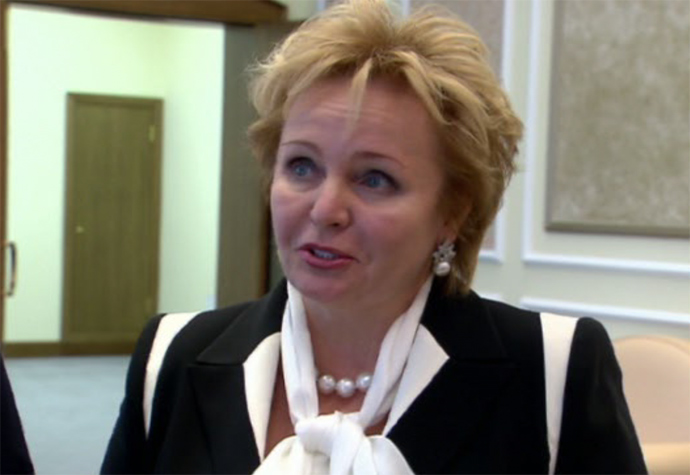 Presidential press secretary Dmitry Peskov called on reporters to respect the president's privacy and restrain from speculating on his personal life: "Vladimir Putin's personal life is his own business, only he can deal with it, and he never put it into the public domain. This is his principle, he earned that right, and let's treat it with respect."
Peskov said that the divorce paperwork has not yet been arranged, and that the couple's statement was not pre-planned: "It just came in naturally. A journalist asked a question, the president answered."
The couple has two adult daughters, Maria, 27, and Ekaterina, 26, both of whom live and work in Moscow. According to unconfirmed reports, Putin also has one grandson, born in August 2012. "We love our children, we are proud of them and see each other often," Lyudmila Putina said.
In a national Q&A session last April, the president was evasive when asked whether he is happy with his life: "It's a philosophical question. I am infinitely grateful to destiny and to the citizens of the Russian Federation for the fact that they trusted me to be the president of Russia. My whole life is in this… Whether this is enough for happiness, I don't know."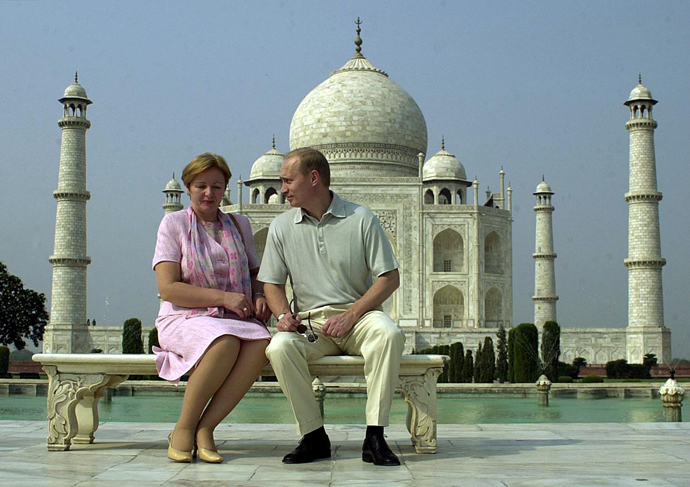 Family life

Vladimir and Lyudmila Putin have been married for 30 years, since 1983, three years after they first met.

Vladimir Putin and Lyudmila were introduced to each other by a mutual friend. Lyudmila worked as a flight attendant on domestic airlines and had come to St. Petersburg, where Vladimir was based, (back in Soviet times it was called Leningrad) for three days with a friend.
"I was already working in the First Main Directorate in St. Petersburg, when a friend of mine called and invited me to the Arkady Raikin (named after a popular Soviet actor and comedian) theatre. He said he already had the tickets, and mentioned there would be two young ladies joining us. So we went to the performance and the young ladies did join us. The next day, we went to the theatre again, but it was now my turn to buy the tickets. And the same thing happened on the third day. I then began dating one of the girls. I became friends with Lyudmila, my future wife," Putin recalls in his biography posted on his official website.

Three years after their first meeting, Vladimir proposed to Lyudmila. "I knew that if I did not marry for another two or three years, I would not marry at all. True, I was used to life as a bachelor, but Lyudmila changed that," Putin admitted. 
They have two daughters – Maria, 27, and Ekaterina, 26. According to unconfirmed reports, Putin has one grandson, born in August 2012.  They both live and work in Moscow.

First Lady is a qualified linguist. In 1986 she graduated from St. Petersburg State University.  In her public activity she dedicated efforts to preserve and develop the Russian language.

Putin's private life has never been public. He reluctantly and briefly answered questions about his family. 
Despite the high divorce rate in Russia, public divorces are uncommon among the country's top-politicians and officials. Putin is the first Russian president to divorce while in office. 
As for other countries, France and Italy have also seen their leaders separate. In 2007 Nicolas and Cecilia Sarkozi divorced after almost 10 years of marriage. Italy's now ex-Premier Silvio Berlusconi also divorced his second wife Veronica Lario in 2009 after 19 years marriage.

You can share this story on social media: