Powerful Russian ice breaker launched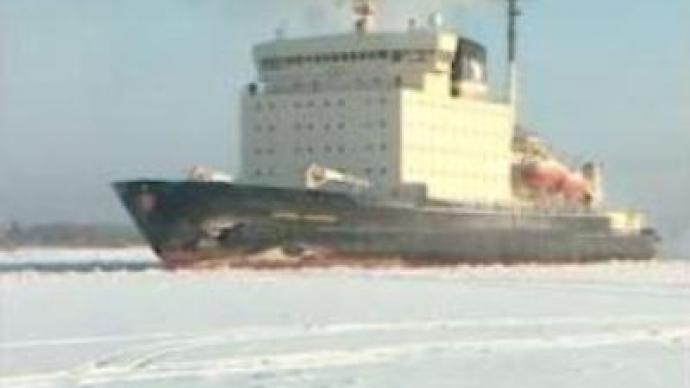 One of the world's most powerful ice breaker ships, called «50 years of Victory», has been launched in Russia's naval city, St. Petersburg. It took almost 18 years to build, and the ship has finally been handed over to the Russian Navy.
The giant nuclear ice breaker was meant be put out to sea in 1995. The deadline was then moved to 2005, for Russia's World War Two Victory celebrations, but the ship was still not ready.It's only today that the vessel can head off for the Northern Sea Route. And the sails have been hoisted.The project has outlived several managers, come through a lack of money and survived a massive fire. But it's managed to withstand the storm.The Ice-breaker's engine, with an astonishing 75 thousand horse power is one of the biggest in the world. It is strong enough to break through 4-metre-thick ice fields.By the end of the construction some of the mechanisms were out of date and had to be replaced, but the vessel's main advantages remained.It is interesting to note that a nuclear-powered ice-breaker is cleaner than its counterparts. It does not produce any hazardous materials. Diesel ships, for example, result in tonnes of soot.And the vessel's interior looks more like a luxury cruise liner, so that polar explorers feel at home. It has a gym, a swimming-pool and a sauna. When approaching the Arctic, the pool fills with water straight from the sea. It's crystal clear.Specialists say the launch of the new ice-breaker is very timely. There is a market right now for large ships needed to develop oil and gas fields. Tankers and gas carriers for deep sea oil extraction are in high demand.Some have dubbed this century the era of open waters, with countries competing for energy resources particularly in the North Pole and the Arctic. And with its rich tradition of naval production, Russia's in with a good chance of cashing in.
You can share this story on social media: