Respect those with guns: Portuguese Army marches against austerity (PHOTOS)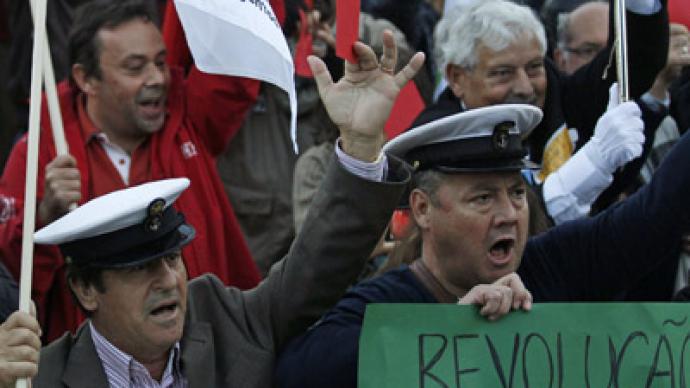 Thousands of soldiers in civilian dress have marched through Lisbon in protest of the austerity program that's part and parcel of the country's 2013 budget.
­An estimated 10,000 active and retired military personnel rallied against the "unjustified cutbacks," calling for President Anibal Cavaco Silva to veto the controversial austerity budget adopted by the center-right government. The quiet march carried banners calling to respect the military and "national sovereignty."
"We are getting cut after cut and there is no light at the end of the tunnel," one soldier told AFP.
Some officers complained that their monthly wages have been cut as much as 25 per cent.
Besides focusing on the military problems, such as a decline in finances for maintenance and training, the march also targeted disagreements over cuts to the social sphere, as well as tax hikes.
Portuguese military members gather in the central Restauradores Square (Independence Restoration Square) during a protest against the 2013 state budget draft in Lisbon November 10, 2012. (Reuters/Jose Manuel Ribeiro)­A number of associations representing the military called on the country's Constitutional Court to review the legality of next year's budget.
In July, the court ruled against a finance law and told the government to revise the measure, which stripped bonuses from civil servants, arguing that it violated constitutionally-guaranteed rights to equal treatment. Activists hope for a similar outcome with the austerity budget.
Portuguese military members hold up red cards to protest against the 2013 state budget draft in Lisbon November 10, 2012. (Reuters/Jose Manuel Ribeiro) In 2011, Portugal received a €78-billion bailout package from the Troika – the group of creditors comprised of the European Union, the European Central Bank and the International Monetary Fund. Belt-tightening is needed to meet the creditors' deficit threshold.
Now Lisbon needs to lower its budget deficit to three per cent of GDP by 2014. As a result of the austerity measures, the economy is expected to shrink by three per cent in 2012, while unemployment is hanging around 15.7 per cent, according to Eurostat.
AFP Photo/Patricia De Melo Moreira
Members of Portugal's armed forces hold a banner reading "With dignity we built the future" during a demonstration against the government's austerity measures in the pay and benefits of members of the military, on November 10, 2012 in Lisbon. (AFP Photo/Patricia De Melo Moreira)