Poppy seeds: food or drug?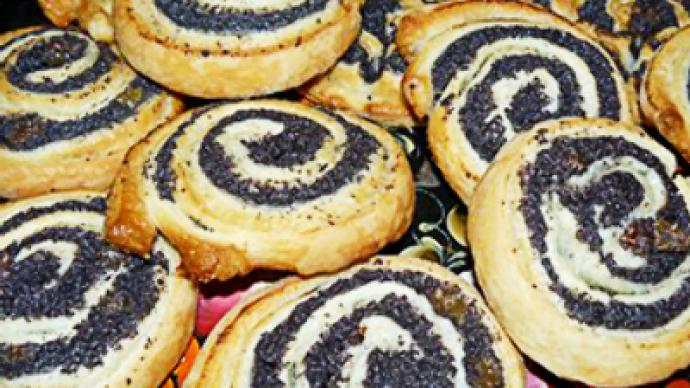 A car loaded with poppy rolls has been detained by the Federal Drug Control Service. The rolls were meant for human rights activists – participants of a protest organized near the building in the centre of Moscow
The protest was stopped by the police and the car with poppy rolls confiscated, on the grounds there was no quality certificate for them. The car's driver was also detained.
Another civil action, planned to coincide with the Day of Drug Police Workers (March 11), took place on Wednesday in Kaluga, in the Moscow region. Police there not only confiscated poppy rolls, but also detained four women who were distributing them.
The participants of the meetings planned to offer the poppy rolls to passers-by to attract their attention to the problem of selling food poppy, says the leader of the movement for the human rights group, Lev Ponomaryov.
Businessmen, or drug dealers?
Growing poppy in Russia is completely prohibited. However, importing food poppy and distributing it is legal.
Such poppy seeds – over 56 tons of them – arrived in Kaluga from Krasnodar, Southern Russia. The poppy, with all permissions and certificates, passed customs. The importers in Kaluga packed it up in small consignments and then sold it.
Regional management of the Federal Service for Control of Drugs and Psychotropic Substances Circulation doubted the legitimacy of the sales, despite all appropriate documents being present. All the poppy seed was withdrawn and the businessmen, along with their sales staff, were sent to a pre-trial detention centre.
The drug police launched a criminal case against them back in 2006 alleging an illegal drug sale. Punishment for such crimes is from 8 to 20 years imprisonment.
The lawyer for the one of the traders, Natalia Andreeva, is sure that "the Kaluga drug policemen declared a crusade against sellers of food poppy".
'Food' poppy sales keep growing along with the number of sellers of this unusual product. However, police are worried that often poppy buyers do not use it for food.
You can share this story on social media: