Pontiff celebrates mass on second day of Turkey visit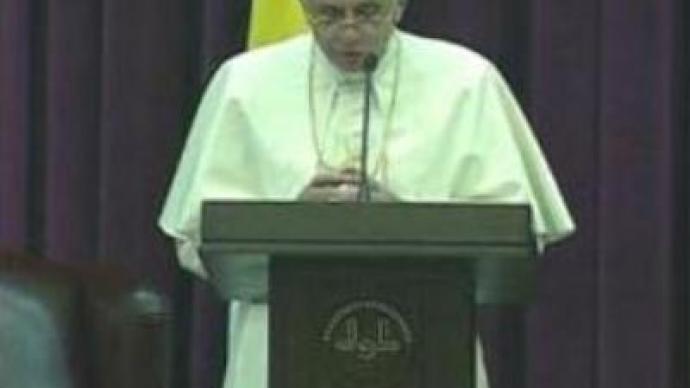 Pope Benedict XVI has held an open air mass in the holy town of Ephesus on the second day of his visit to Turkey, his first to a Muslim nation. Ephesus is thought to be the holy town where the Virgin Mary spent her final years.
The Virgin Mary is recognised by Muslims, and the Pope said that Ephesus was a good place for reconciliation with christiansMillions of Christian and Muslim pilgrims visit the site every year and over a thousand were invited for the Pontiff's mass. The Pope used the occasion to honour a Priest killed in February by a young Turkish Muslim, who was supposedly angered by cartoons depicting the prophet Mohammed. The Pontiff has been criticised since September when he quoted a Byzantine emperor as saying Islam was violent and irrational. On Sunday more 25,000 people protested against his visit in Istanbul, a former Christian cityThe most sensitive issue surrounding the entire trip is his visit to the Haghia Sophia museum once a Christian church, later a mosque, now a museum.Some groups have campaigned to turn it back into a Mosque, and just days ago, Islamic extremists stormed the building to pray, warning that the Pope must not visit the building. The Pope's been careful to appease the Muslim communities, but he's also expected to call for greater rights and protections for Christian minorities in the Muslim world, including Turkey's small Greek Orthodox community.
You can share this story on social media: