UN confirms polio outbreak in Syria, aid agencies call for 'vaccination ceasefire'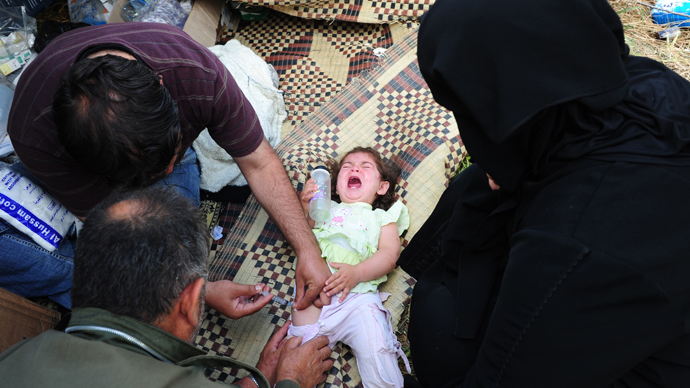 A polio outbreak in Syria has been confirmed by the World Health Organization (WHO). The news has prompted calls for a 'vaccination ceasefire' as the disease threatens to spread across the country and into neighboring states.
The WHO issued a warning stating that there is high risk of infectious polio disease spreading across Syria and beyond, after 10 cases were confirmed among young children in the eastern Syrian province of Deir al-Zour. 
Another 12 children are awaiting test results. Along with Syria, seven neighboring countries have announced plans to start emergency vaccinations in response to the risk, according to the WHO. Syria has not seen a case of polio since 1999.
International children's charity Save the Children released the ceasefire appeal following the WHO statement and confirmation from the Syrian government. 
"Vaccination ceasefires would mean pauses in fighting to allow vaccination campaigns to take place across both sides of the conflict," the agency said.
Save the Children President and CEO Carolyn Miles issued the following statement: "Polio doesn't respect conflict lines or borders, so we need these ceasefires to reach all children with vaccines, no matter where they live. If chemical weapons inspectors can be allowed access across Syria with notebooks, surely aid workers can be allowed in with vaccines."
Miles added that the outbreak serves as further confirmation of the deteriorating situation in Syria amid the country's ongoing civil war. "The UN Security Council recently agreed on access for humanitarian relief across Syria. This polio crisis is a clear test of whether all sides of the conflict will respect the Security Council's presidential statement and allow unhindered humanitarian aid," Miles said.
Some progress was reported in the Damascus suburb of Muadhamiya, as the government blockade was relaxed for humanitarian relief efforts. 
The executive director of the United Nations Children's Fund, Anthony Lake, stated that the agency and the Syrian government had agreed on the "importance of reaching hundreds of thousands of children in some of the worst-affected parts of the war-torn country with life saving vaccines, including those against polio."

Health workers have warned that the civil war in Syria has created ideal conditions for the disease to breed. Polio is known to target children younger than five years of age and is spread through contaminated food and water supplies. The disease can lead to permanent paralysis and death, as breathing muscles become immobilized.
Before Syria's civil war began, 95 percent of children were immunized against polio. However, the UN now estimates that 500,000 children have not been vaccinated against the disease.
The large number of refugees fleeing Syria to neighboring countries on a daily basis is making the situation even more dangerous, as the virus could spread across the region.
You can share this story on social media: