Shots fired as Yemen police disperse angry crowds flocking to US Embassy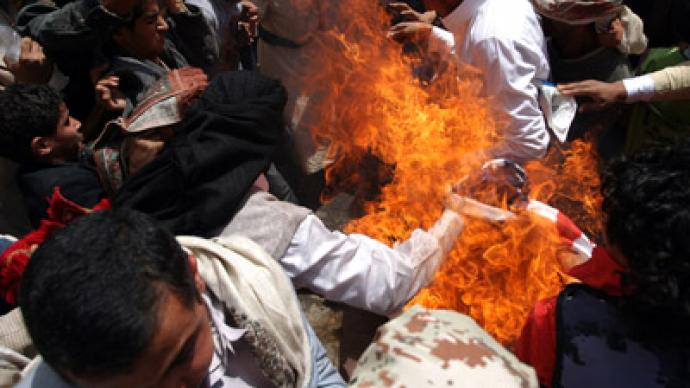 Yemeni police deployed water cannons and fired tear gas and warning shots to disperse a crowd of protesters massed near the US embassy in Sanaa, the capital city. Embassy employees are reportedly in transit to a secure location.
Witnesses said that the crowd turned into a stampede as they attempted to flee.Freelance journalist Joe Sheffer has reported that ambulances have arrived at the eastern entrance of the embassy. The police actions were a response to demonstrators' attempts to storm the US embassy, media reports said.Earlier Friday, Yemeni police and army personnel blocked off streets leading to the embassy as angry demonstrators gathered nearby. The protesters brandished signs and chanted anti-American slogans. They marked the second day of anti-US public outrage in the country over an amateur anti-Islamic film.The US has sent a marine security team to Yemen to deal with the aftermath of the embassy attack. Four protesters were killed and 15 others were injured during yesterday's protest in Sanaa. Yemeni President Abd-Rabbu Mansour Hadi condemned the violence, and promised to launch an investigation into the killing.
You can share this story on social media: