Police prevent mass poisoning in Russia's Far East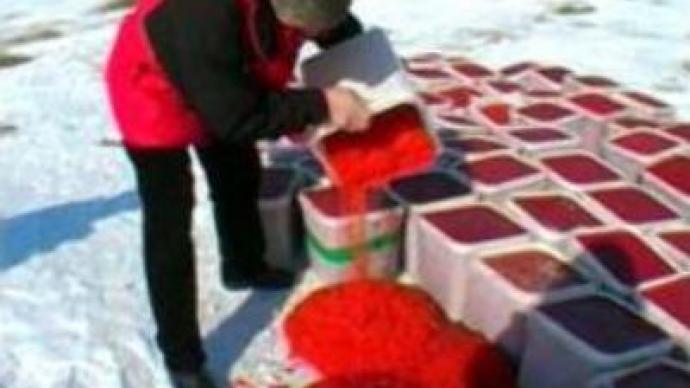 In the Russia's Koryakia Autonomous Area, police have discovered a large amount of poached caviar, the world known traditional Russian delicacy. Officials say the discovered lot is just a small part of the illegal turnover of caviar.
Due to the popularity of the dish, poaching and illegal caviar production is constantly growing.133 containers of red caviar may look delicious, but officials say it could have caused serious mass poisoning.
"We can tell simply by the way it looks that this caviar is tainted. It has mould on it,"
said Leonid Nesterenko, Consumer Rights Agency. The illegal delicacy was discovered by policemen on a vehicle in the village of Hailino. The transporters of the caviar had no documents to prove that the goods were legal. They also couldn't give the name of the cargo-owner.
"We have every reason to believe that this caviar was poached. This is what testimonies of those questioned lead us to believe,"
said Sergey Zhitnik, a police officer. Experts say the caviar has been kept in unhealthy conditions for about a year. Three and a half tonnes can fill over 17,000 standard-sized cans of caviar.The number of people who might have eaten the ruined product can only be imagined. To prevent it from being sold, it was decided to destroy it all on the spot.The three-and-a-half tonnes were worth around $US 115,000.Anatoly Gorbunov, the policeman who discovered the illegal product, was rewarded for a job well-done. He got a snowmobile for successfully fighting against poaching.Police vigilance is crucial in protecting the health of consumers, and the reputation of one of Russia's trademark products.
You can share this story on social media: