Police clashes with Albanian protesters in Kosovo: 20 arrested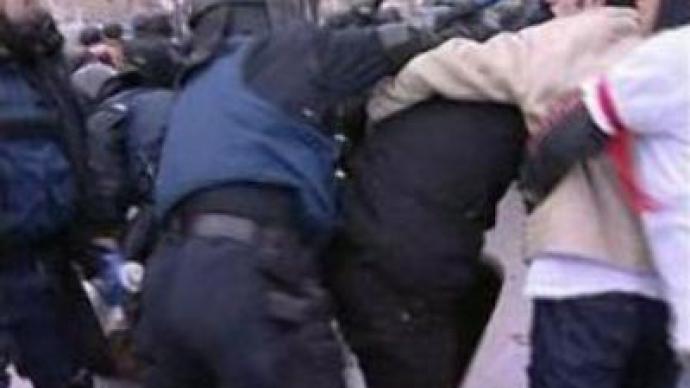 In Kosovo police clashed with ethnic Albanians who were demonstrating against the UN plans for the future of the breakaway Serbian province. Scores were injured and more than 20 arrested when forces tried to contain protests.
Albanian demonstrators gathered near the government building in Pristina, the capital city of Kosovo.
'We are demonstrating today against the package of Ahtisaari ( UN Special Envoy for the Future Status Process for Kosovo) , who does not refer to the will of the people of Kosovo but only to the privileges of one minority, Serb minority, which is being manipulated and instrumentalised by Serbia,'
Albin Kurti, the leader of 'Self-determination' protest group claimed.As they approached, the UN police stepped in. Tear gas and rubber bullets were used as demonstrators tried to break the cordon. As a result, dozens were injured and 20 arrested.
'I don't think there was a need to protest against the Ahtisaari proposal. I think that protests are a civil right for everyone as long as they are peaceful. I am disappointed that these protests were violent, and that as a result of them 81 people were injured, 21 of which are in hospital in a bad condition. We, the negotiation team, also disagree with the Ahtisaari proposal, but we believe that we should resolve these disagreements in a diplomatic way,'
the Prime Minister of Kosovo, Agim Ceku said.A week ago the UN Special Envoy unveiled a proposal for Kosovo's future, which included allowing Kosovo to adopt a constitution, a flag, and apply to join international organisations. The majority of ethnic Albanians denounced the plan and the part played by international overseers. The Serb minority, however, wants support.
'We will use all democratic means to prevent the secession from Kosovo. We will not allow Kosovo to become independent,'
Nebojsa Jovic, Vice President of the Serb National Council in Kosovo, stated.Ethnic Albanians want a rapid conclusion to final status talks, which have already been postponed.
However, the latest aggression might now hinder rather than hasten any progress for the peoples and the politics of the disputed territory.
You can share this story on social media: