Poland and Estonia - two different views on war memorials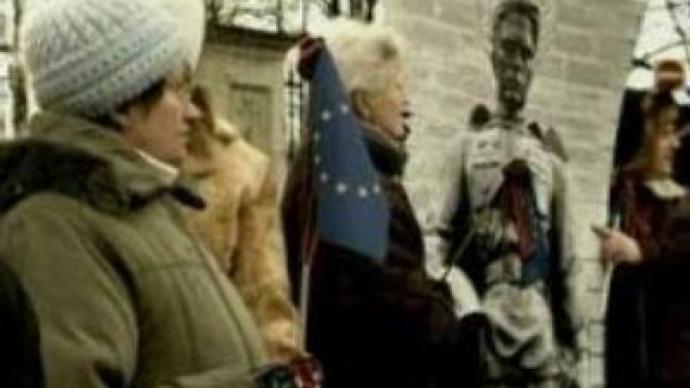 Tensions continue to run high in Estonia. The controversial World War Two monument to Soviet soldiers is due to be removed from the centre of its capital, Tallinn, within a month. It is not the same in other Eastern European countries.
Hundreds of thousands of Soviet soldiers perished in Eastern Europe fighting Nazi Germany and thousands of memorials to Soviet dead are scattered there. But with the fall of the Soviet Union these soldiers are often thought of as occupiers rather than liberators.
The Estonian parliament has recently passed a law allowing the reburial of World War Two Soldiers from what it calls unsuitable places. It means the monument to the Soviet soldier in central Tallinn will be relocated. The decision has already caused tension in Estonian society.
But in Poland where you would expect some bad feelings towards Russia following a history of tense relations, the graves and monuments to Soviet soldiers are left untouched.
"Soldiers in battle"- a bronze monument in the centre of Warsaw – is a tribute to Soviet soldiers who liberated Poland from Nazi occupation. It was erected to commemorate hundreds of thousands of Soviet soldiers that were killed fighting on Polish soil.
The Russian Memorial organization in Warsaw keeps track of all the Soviet military graves there. Not a single one, they say, has been destroyed or dismantled
"The Polish side treats these monuments not like they are treated in countries like Estonia. Here people respect these burial places. We very often see flowers at graves. Candles burning especially on All Saints Day that the Poles mark on November, 1,"
said Aleksandr Poleiko from the "Memorial" organisation.
Many Polish World War Two veterans who liberated Poland together with the Red Army say these monuments are history. And history cannot be changed.
You can share this story on social media: