German Pirate Party to rock Merkel's boat?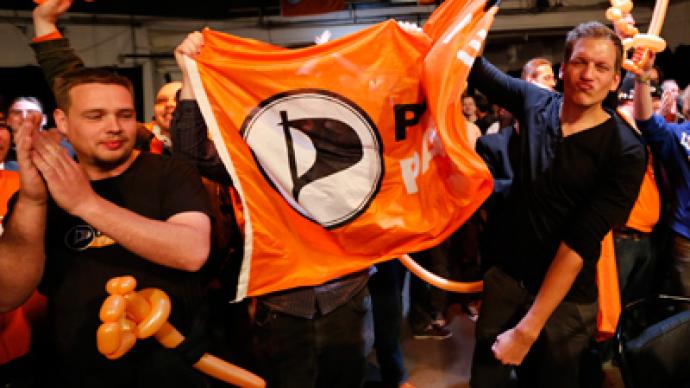 Germany's infamous Pirate Party took 8 per cent of the vote in the country's biggest state, making it the fourth region where they have parliamentary seats. With the national elections set for 2013, could these political buccaneers threaten Merkel?
"We have written history today," said Michele Marsching, chairman of the state chapter of the Pirates, in tears of joy. "Now it is time to party, politics should be fun!" he added.The Pirates won the support of voters in the parliament of Schleswig-Holstein in the North of Germany on Sunday, the same day that Merkel faced an embarrassing defeat against opposition in North Rhine-Westphalia.The unorthodox party has enjoyed growing popularity throughout Germany recently, capitalizing on the votes of Germans disgruntled with Angela Merkel's harsh austerity measures. The chancellor's ruling Christian Democrats party has lost popularity recently, with support plunging from 34.6 per cent in 2010 to 26.5 per cent this year.Political analysts have estimated that around 25 percent of the Pirates' support comes from previous non-voters, while they have also wooed supporters of Germany's Green Party.The party has championed itself as offering "basic democracy" and making decisions that the people really want.The Pirates base their political philosophy around what they have dubbed "liquid democracy", which proposes a radical change in policy-making.It is a system whereby policy suggestions are made through online forums known as "Pirate Pads," the suggestions are then circulated through chat rooms and discussed before being made policy.   The Pirate movement started in Sweden in 2006 where it currently has two MPs and takes its name from the dispute over internet copyright. The group stands for freedom to share and download source material on the web, which the owners of copyright and intellectual property classify as piracy.The party still has no members in the national parliament, but growing support at a state level could be a precursor to a representative in the German Bundestag.
Death knell for 'Merkozy'
A vote in Germany's most populous state North Rhine-Westphalia saw Chancellor Merkel's Christian Democrats party humiliated in their worst defeat ever in the region.Voters turned their back on Merkel's austerity measures as the answer to Germany's financial woes and opted for the rival Social Democratic Party, which offers an alternative financial growth policy to Merkel's unpopular economic cut-backs. Elections in Germany's North Rhine-Westphalia state generally serve as an indication of national trends, with many predicting the result heralds the ouster of Chancellor Merkel in the 2013 national polls.Merkel's defeat comes off the back of former President Nicolas Sarkozy's loss to socialist Francois Hollande in France's presidential elections. Hollande's victory marks a palpable shift away from the Franco-German economic alliance and a rejection of austerity measures as a solution to national debt.Referring to the Merkel-Sarkozy economic duo, Journalism professor Demetris Kamaras told RT it was high time for a shift in government."I think it's time to change, not only faces but the way we see Europe and also the way we see the economy itself," he said. Kamaras stressed the need for "a new strategy" with regard to financial policy and said that a "change of leaders may be a good thing, at least symbolically for the people."Disillusionment with economic austerity appears to be driving a trend in Europe towards smaller and more radical parties that offer an alternative to cuts.
You can share this story on social media: