Pinochet controversial even in death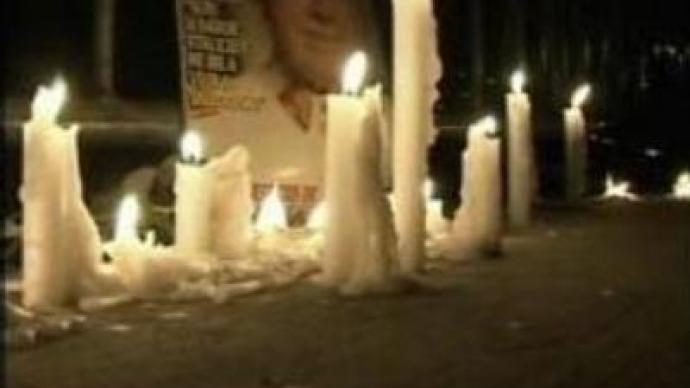 The body of the late Chilean dictator Augusto Pinochet has gone on display in Santiago amid tight security and high emotion. However, his death has done little to heal the divisions people feel about his rule.
91-year-old Pinochet died on Sunday, a week after suffering a massive heart attack.
Chileans have begun filing past the coffin of Augusto Pinochet. While loyal supporters mourn the loss of the former president, his vehement critics celebrate the death of a brutal dictator. Riots erupted in the streets of Santiago. The clashes are hardly surprising. Pinochet is a figure who sparks admiration and revulsion in equal measure.
Another reason for protests was the announcement from the authorities that there will be niether a state funeral nor a period of mourning. The 91-year-old will be laid to rest in a military ceremony. Pinochet's critics though are determined his crimes won't be buried along with him. The Spanish judge Baltasar Garzon who led the efforts to get Pinochet extradited to face charges of genocide, said his death is the reason international justice shopuld have been quicker.
"The truth is that maybe we all had wished that the trial of Augusto Pinochet had happened, and the victims had received compensation and justice had been done. Unfortunately that didn't happen,"
he said.It was 1973 when the world became aware of Augusto Pinochet. The army general declared himself supreme leader of Chilie. It was a position he had taken by force, after toppling president Salvadore Allende in a coup,and thus began a new and brutal chapter in the country's history.Pinochet quickly revealed himself to be a dictator who dealt ruthlessly with his left-wing enemies. More than 3,000 people were killed and 20,000 tortured. Isabel Allende, the daughter of former Chilean President, Salvador Allende, has called for the investigations into charges of human rights violations and torture to continue.
"There cannot be any reconciliation while the legal process is still open,"
stresses Isabel Allende.
"We have to keep in mind that some people haven't been found yet, and their families are still looking for their loved ones. Therefore it is unthinkable to call for any reconciliation. I call for justice, and to recall what happened during these years. No more coup d'états, no more human rights violation, no more assassinations".
In the late 1990-s, Pinochet was almost forced to face up to his crimes, when a brief visit to London turned into a 17-month incarceration and an international battle of extradition. Freed on medical grounds in 2000, the General returned to Chile where strong protests forced authorities to press for his prosecution on various human rights abuse allegations. Despite the numerous and lasting legal battles to make him answer charges in Chilean courts, Pinochet maintained being above reproach, although on his 91st birthday just a few weeks ago, he finally admitted "political responsibility" for everything which took place under his rule. Asked if he was remorseful, he replied:
"I'm not remorseful about anything".
You can share this story on social media: