Big Pharma presses US to quash cheap drug production in India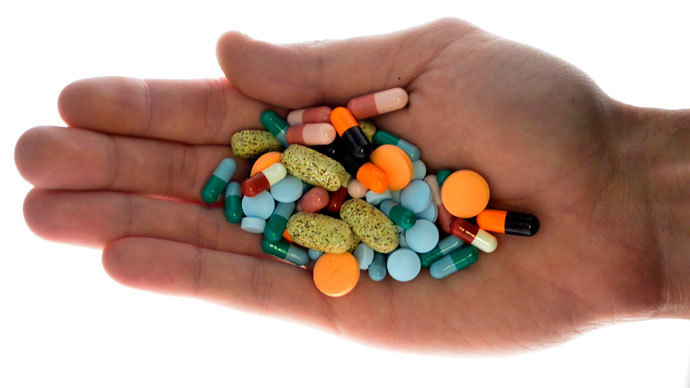 Powerful global pharmaceutical firms are leaning on the United States government to discourage India from allowing the production and sale of affordable generic drugs still on-patent, according to inside sources close to the matter.
According to two senior officials, an Indian government committee is reviewing patented drugs from foreign companies for opportunities to spin certain medications into low-cost, generic versions. The drugs up for analysis are used to treat cancer, diabetes, hepatitis, and HIV, the sources told Reuters. They would not expand on the review process or on the timeline for any decisions on granting what are known as compulsory licenses.
Like other emerging economies such as China and South Africa, a rapidly growing population in India poses challenges to its government in keeping healthcare costs down while increasing access to life-saving drugs.
And wherever there are "emerging markets" - coupled with declining sales of patented drugs in Western markets - there are multinational conglomerates seeking profit inroads. Western-based pharmaceutical companies like Pfizer Inc., Novartis AG, and others are reportedly frustrated by India's efforts to increase access to these vital drug treatments in a country where only 15 percent of the nation's 1.2 billion people have health insurance.
Thus, led by the industry trade group Pharmaceutical Research and Manufacturers of America (PhRMA), these companies are pressing for a stronger reaction from the US government, with which they already have substantial clout.
India, for instance, is already on the US government's Priority Watch List - nations that are monitored closely given they do not always tow the line on intellectual property according to Washington's standards. Countries in this classification include Argentina, China, Egypt, Pakistan, and Russia, among many others.
PhRMA believes the US should threaten to downgrade India to a Priority Foreign Country, which includes the "worst" nations that thwart intellectual property boundaries. Currently, only Ukraine is considered a member of this exclusive category.
"The multinational companies are exploring all options - from paring their investments in the country to forcing the US to take some actions," said a source in New Delhi, who, Reuters reported, "is directly involved in the situation."
"Companies feel something should be done at the earliest to check the violations of their intellectual property in the country. They want government-to-government pressure to change things," the source said.
A PhRMA representative declined to comment to Reuters.
"PhRMA makes submissions to the US government every year on trade issues but this year they really want to ratchet up the pressure on India," said a drug company executive.
Reuters says PhRMA plans to submit to the US government by the Friday filing deadline a list of concerns about countries they believe could be a part of the Special 301 Report, an annual message from the Office of the United States Trade Representative.
Despite the clout it possesses in the US and globally, the drugmakers need to tread lightly when attempting to influence policy toward a country like India, where a large percentage of the population lives in poverty, at least one company told Reuters.
"I don't believe there is any need for any kind of more assertive stance. This is a situation where constructive engagement is the way forward," GlaxoSmithKline Chief Executive Andrew Witty said.
Nevertheless, India's drug market is expected to be worth US$22 to 32 million by 2017, making it the 11th largest in the world, according to IMS Health.
Some believe that if India relies too excessively on compulsory licenses for alternative drugs, it may mean that pharmaceutical companies will devote less research and development spending in the country.
AstraZeneca, for example, shut down its research and development operations in Bangalore last month, calling the move part of its global strategy.
"If the authorities are going haywire and looking to grant compulsory licences lock, stock and barrel, in that event you will lose the credibility in India as a system," Ameet Hariani, managing partner at Mumbai-based law firm Hariani & Co., told Reuters.
"You are going to see much more litigation on this issue. People are going to be unwilling to introduce new drugs in the market," he said. "You can't expect to get a new drug at a price of an aspirin."
In 2012, India awarded its first compulsory license to domestic company Natco Pharma Ltd.
You can share this story on social media: