Meteor shower peak: Perseids give stargazers 2 shining nights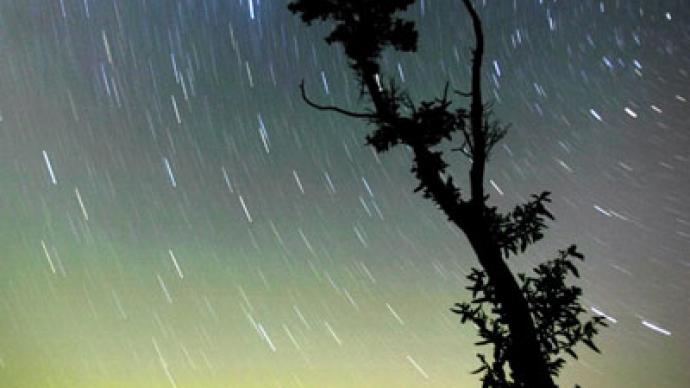 Mother Nature will brighten up the sky over the next two nights, with hundreds of shooting stars and fireballs. The Perseid meteor shower is expected to put on a spectacular light show across the northern hemisphere.
The dazzling display makes its way across the sky every summer, but experts say this year's presentation will be especially impressive.According to NASA, the brightest planets in the solar system will be at the heart of the action, making the shower more awe-inspiring than usual. Jupiter, Venus, and the crescent moon will align as the shower peaks. Catching a glimpse of the shooting stars shouldn't be difficult for spectators. The meteors are expected to fall at a rate of 100 per hour – almost two per minute. However, experts say the best viewing will be during the darkest parts of night, in the early hours before dawn. Urban dwellers are advised to trade the city lights for nature's lights for the best viewing opportunities. In fact, traveling into the wilderness can triple the amount of visible meteors, according to NASA scientists.
But it's not just the scintillating show that is worthy of mention. Astronomers find the process behind the Perseid meteor shower to be equally fascinating.The earth passes through the Swift-Tuttle comet's debris field every August. Bits of rock and metal crumble off the comet's tail and make their way toward Earth's atmosphere. When the meteors hit the upper atmosphere, the air in front of them compresses, causing temperatures to rise and incinerate the falling matter.The heat causes the meteors to glow as they make their way through the night sky. It's a display that has wowed audiences for 2,000 years.The shower gets its name from its radiant point – the constellation Perseus. The Perseid shower is mainly visible only in the northern hemisphere, because the constellation climbs higher in the Northern Hemisphere sky. Although the meteors streak across a number of constellations, they seem to radiate the constellation Perseus when traced backwards.NASA is seeking the help of wannabe astronomers across the globe. They have developed an app for stargazers to count every meteor they see and report the results. The data will allow astronomers to study the debris stream of the meteor shower.
You can share this story on social media: