Pentagon eyes 'human like' handyman robots: But why?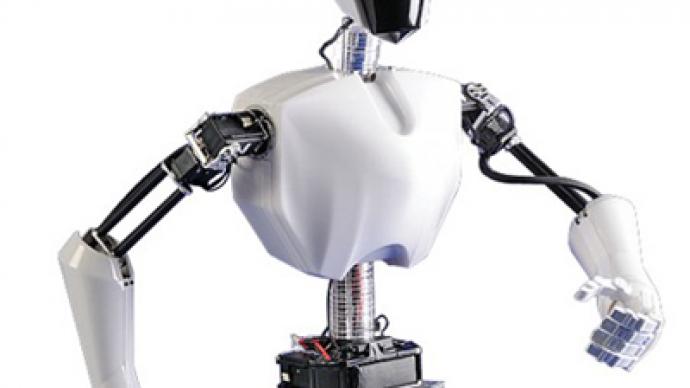 A US military agency is to announce Grand Challenge for a new generation of humanoid robots to add it to the country's military arsenal.
­Pentagon's Defense Advanced Research Projects Agency (DARPA) is turning its attention to legged humanoid robots. According to robotic news portal Hizook, the agency will soon officially announce its new Grand Challenge for a robot able to "operate in an environment built for people and interact with made-for-human tools."
DARPA wants the androids to be able to drive an open-frame utility vehicle such as a tractor. The task is to get into the driver's seat and drive it to a specified location. Then to get out of the vehicle, maneuver to a locked door, unlock it with a key, open the door, and go inside.
The new androids should be able to climb a ladder, identify a valve and fix it with a valve and perform other handyman repairs, such as locating a broken pipe and replacing it.
The requirements suggest the androids could perform well in future industrial disasters – instead of humans in dangerous environments. That could turn out useful for disasters like meltdown aftermath of Japan's Fukushima nuclear facility.
But some experts already draw parallels with the humanoid SAFFIR (The Shipboard Autonomous Firefighting Robot) robot, which will soon be handling dangerous fire fighting duties on US Navy ships. According to the Naval Research Laboratory, the US military also has set its sights on "other potential warfare applications" in choosing to create a humanoid robot.
DARPA plans to issue contracts for six hardware teams and 12 software teams. It will also permit unpaid teams to enter the contest. If some of the unpaid teams perform better than the paid teams, they will replace the paid contender and begin receiving funding.
DARPA previously held several Grand Challenge events. The first three focused on self-driving cars. In 2004, no winner was declared, and the cash prize was not given as none of the robot vehicles finished the route. A year later five different cars completed the distance.
The third competition took place in 2007. The course involved a 96 km urban area to be completed in less than six hours. Rules included obeying all traffic regulations while negotiating with other traffic and obstacles and merging into traffic. Six teams successfully finished the entire course.
The military agency has also shown a strong interest in legged robots by funding projects such as Boston Dynamics' four-legged robotic headless mule designed to carry battle gear for US marines. In its first outdoor test, the robot showed how it could follow a person and navigate around trees and rocks while climbing a hill.
One of its other projects is Robot Cheetah, which set a speed record running faster than an average human jogger. That could be of great advantage over the existing battlefield robots on wheels or tank-like treads.
You can share this story on social media: