Pentagon abandons plans to buy Russian helicopters amid Syria dispute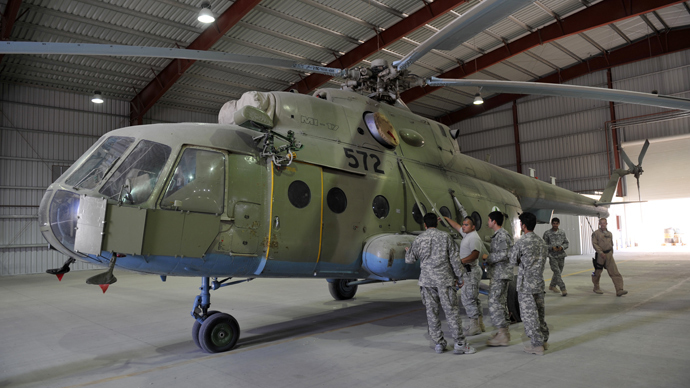 The US is cancelling its plans to buy Russian helicopters for the Afghan Air Force from state-owned exporter Rosoboronexport. It comes amid pressure from US lawmakers over Russia's arms deliveries to Syria, according to a US senator.
Texas Republican Senator John Cornyn has been trying to convince Congress to put more pressure on the Pentagon to oppose the US purchase of 15 additional Mi-17 helicopters from Russia for use in Afghanistan. 
"I applaud the Defense Department's decision to finally cancel its plan to buy additional helicopters from Rosoboronexport," Cornyn said in a statement. "Doing business with the supplier of these helicopters has been a morally bankrupt policy, and as a nation, we should no longer be subsidizing Assad's war crimes."
Sources familiar with the matter told Reuters that the sale was estimated to be worth around US$345 million. 
Defense Department spokeswoman Maureen Schumann told Reuters that the department changed its mind about requesting the money needed for the deal. "After initially requesting funds from Congress in the FY14 budget to provide additional enhancements for the Afghan National Security Forces, the department has re-evaluated requirements in consultation with Congress," she wrote in an email. 
"We currently do not have plans to purchase additional Mi-17s from Rosoboronexport beyond those in the Afghan Program of Record," Schumann added.
The Pentagon's overall plan included the purchase of 65 new Mi-17 helicopters from Rosoboronexport for about $1.1 billion. It is not known how many of them have been delivered so far. 
The US government defended the plan in the past, stating that the Russian helicopters were the best way to resupply the Afghan Air Force in time for US troop withdrawal at the end of 2014.
But Congress has criticized both Rosoboronexport's arms deliveries to Syria and the cost of the helicopters. 
Meanwhile, Russia says it is simply fulfilling the existing contracts it has with Syria, stating that the deliveries are legal under international law. 
You can share this story on social media: