Opposition candidate wins Mexican presidential elections – exit polls
Published time: 2 Jul, 2012 03:47
Edited time: 2 Jul, 2012 07:47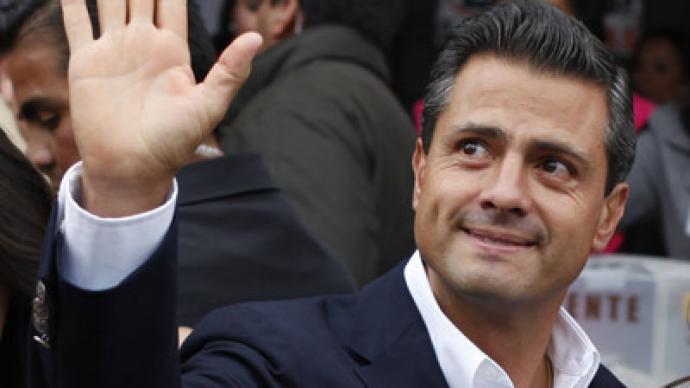 One of Latin America's major powers has elected a new leader as election favorite Enrique Pena Nieto seems to have won the vote to become president of Mexico, according to exit polls.
Nieto, the candidate of the Institutional Revolutionary Party (PRI), has claimed some 40 per cent of the vote. In doing so, he has ended a 12-year spell out of power for his party, which had previously governed the country for some seven decades. His campaign manager has already declared victory.
Nieto's victory means the end of the conservative National Action Party's (PAN) stay in power. The PAN candidate, Josefina Vazquez Mota, the first woman to run for a major political party, has already conceded defeat with her 23-per-cent share of the vote leaving her trailing in third. PAN's vote is believed to have been dragged down due to a brutal war with drug cartels waged by the incumbent Felipe de Calderon, as well as the government's patchy economic record.
In second place behind the charismatic Pena Nieto is leftist rival Andres Manuel Lopez Obrador of the Democratic Revolution Party (PRD), who gained about 30 per cent of the vote.
Until 2000, Pena Nieto's PRI ruled the country for 71 years and was famous for its heavy-handed tactics. It once had near-total control of the country until it was ousted by Vicente Fox of PAN in 2000. Pena Nieto has vowed that his party has abandoned the ways of the past and will govern in an open and pluralistic manner.
He has promised to open the state-owned oil monopoly Pemex to foreign investors, to raise tax revenue and liberalize the labor market.
"It's time for the PRI to return. They're the only ones who know how to govern," Reuters quoted 70-year-old Candelaria Puc as saying as she voted in the beach resort of Cancun. "The PRI is tough, but they won't let the drug violence get out of control."
Some 79.5 million Mexicans took to the polling stations on Sunday to elect their new president, 500 deputies and 128 senators who comprise the nation's Congress.