Passport row sparks political scandal in Ukraine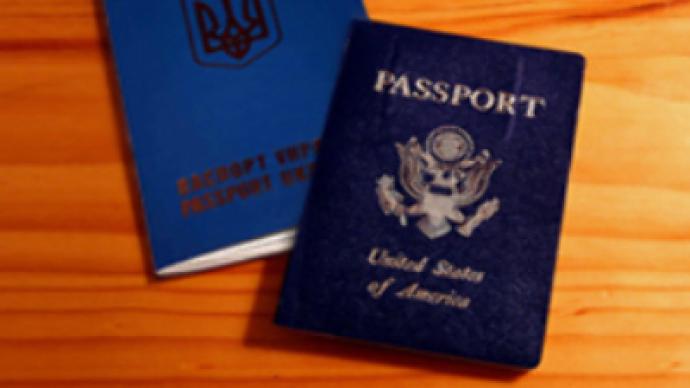 A political row has broken out in Ukraine after a former ally of Viktor Yushchenko claimed the President's wife, Katerina, is a foreigner because she failed to surrender her American citizenship. The accusation was made by the Georgian national David Zhva
Zhvania, who was a prominent figure during and after the Orange Revolution and a close family friend of the Yushchenkos, is now out of favour.
The President is reportedly unnerved by his close ties with Yulia Timoshenko, who is likely to be Yushchenko's prime rival during the upcoming presidential election.
The General Prosecutor in Kiev is investigating how Zhvania, a Georgian by birth, was granted citizenship in Ukraine. The politician claims he's being persecuted by President Yushchenko's secretariat.
Enraged by the probe, Zhvania told an interviewer that Yushchenko should 'check out his own family' before getting interested in his citizenship. He added that both the President's wife and children have American passports, which the politician 'held in his own hands' while travelling with the family.
Katerina Yushchenko was born in America to a Ukrainian immigrant family. She made a career in the White House before moving to the U.S. Treasury.
After the Orange Revolution, which brought Viktor Yushchenko to power, Katerina publicly adopted Ukrainian citizenship. She had to give up her American passport because Ukraine does not allow dual citizenship.
Zhvania's challenge was not well received by Ukraine's first lady. Her press office released a set of documents confirming her legal status as a citizen of Ukraine.
The scandal was given a twist when an MP from the opposition claimed the documents giving Katerina Yushchenko Ukrainian citizenship had no legal force.
It has also come to light that Katerina Yushchenko only ceased to be an American, legally, years after the Orange Revolution.
Political analysts disagree on why the quarrel between Yushchenko and Zhvania has become so rancorous. Some say it is part of a political campaign against the President, citing other instances when former 'orange' allies turned into bitter rivals. Others see it a personal vendetta between the two men: Yushchenko is known to be very protective of his family.
You can share this story on social media: