Arab Parliament calls for withdrawal of observers from Syria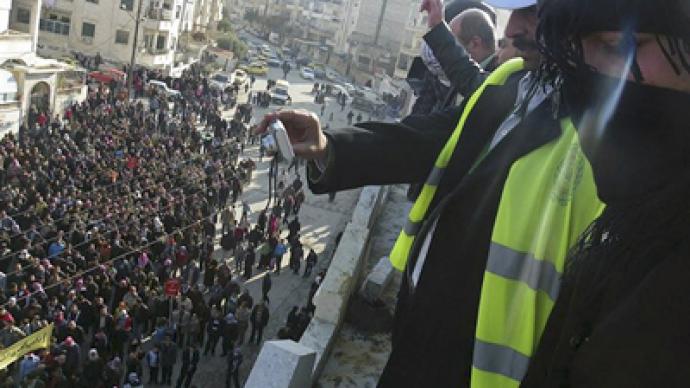 The Arab Parliament, an Arab advisory body, has urged the Arab League to terminate the monitors' mission in Syria, saying the mission has failed to end the bloodshed in the country.
­"The mission of the Arab League team has missed its aim of stopping the killing of children and ensuring the withdrawal of troops from the Syrian streets, giving the Syrian regime a cover to commit inhumane acts under the noses of the Arab League observers," said Ali Salem al-Deqbasi, the Kuwaiti head of the 88-member Arab body, in a statement.

The Parliament called on the Arab League's secretary-general, Nabil Elaraby, to adopt a resolution to withdraw the mission immediately.

However, as the Arab Parliament, a body to which members of the Arab League send representatives, operates separately from the Arab League, this is a non-binding recommendation.

The first 50 observers of an eventual 150 monitors arrived in Syria on December 26 for a month-long mission to provide an independent ground report and to ensure that President Bashar al-Assad stops the bloodshed. The mission was part of the peace plan signed by Syria on December 19.

The arrival of the monitors led to the withdrawal of Syrian tanks from the western city of Homs, dubbed by many as the cradle of the Syrian opposition. Nevertheless, local coordination committees say that since the mission began at least 286 people have been killed, reports Reuters.

In total, the United Nations estimates that over 5,000 people, mostly peaceful protesters, have been killed in the nine-month anti-government uprising.

Syrian President Bashar al-Assad says the source of the unrest in the country is the help and guidance that Islamist militants are receiving from abroad.

Dr Maher Salloum, an ambassador to the Universal Peace Federation, told RT the observers' mission should not be interrupted, though the independence of the observers might be questioned somewhat.

"[Monitors] are being affected by some regional powers, such as Qatar or major Egyptian officials, and international powers even at the level of the European community and the US," claimed Dr Maher Salloum talking from Beirut. "This international pressure will prevent them from independent reporting. This tarnishes transparency and the process of independent monitoring itself."
Watch RT's full interview with Dr Maher Salloum