Paris Hilton struts her stuff in Moscow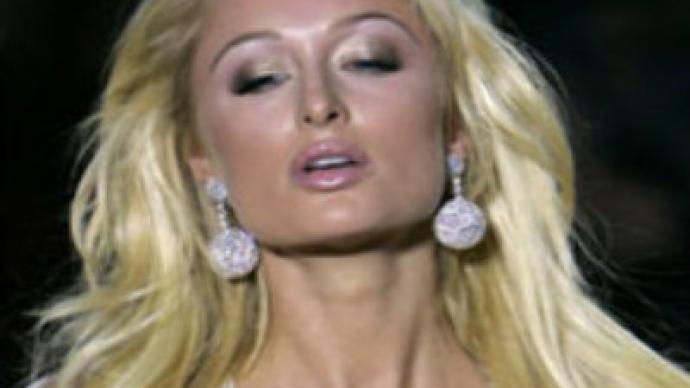 World-famous socialite Paris Hilton has set this year's Moscow Fashion Week alight. She came to a fashion boutique of teenage designer Kira Plastinina and spoke to the press.
Moscow fever over Paris
The hotel-chain heiress attracted more attention to herself than to the clothes she flew in to promote.
The huge crowd at 15-year-old Plastinina's show applauded Hilton's every move, clapping enthusiastically as she smiled and pointed out the most interesting designs on the catwalk.
When it was all over, the A-list celebrity presented the whiz kid fashion maestro with a huge bouquet of flowers.
Money Talks
According to reports, she's getting about $US 2 million for her two or three days' work.
Surprisingly perhaps, The American socialite is not staying at the Hilton in Moscow. She's booked in at the Hyatt, considered to be the finest hotel in the Russian capital.
Family affair
Teenage designer Kira is still a schoolgirl. Her career is largely funded by her wealthy father, Sergey Plastinin – one of Russia's biggest dairy magnates. His fortune at the beginning of the year was reported to be in the region of $US 350 million.
It's said that when Kira Plastinina comes up with her new designs, she imagines Paris Hilton wearing them.
Bob Van Ronkel, President of the 'Doors to Hollywood' company, says Paris' visit to Moscow is a brilliant PR move for both her and Kira Plastinina.
"Kira is a talented young designer, her father is a phenomenal marketing person. Sergey Plastinin understands marketing like no one I've ever seen and for all of them it is very good," he said.
Cultural exchange
Van Ronkel has been bringing stars to Moscow for the last five years and says many come simply out of curiosity. Sean Penn, Jack Nicholson and Laura Flynn Boyle are among forty other celebrities on his list.
He says many Americans, like himself, grew up with a great fear of Russia.
"To come here, to meet so many fantastic people, to see how warm people are in Russia – they just love it. They love the food, the nightlife, the caviar – just the country in itself and the culture," Mr Van Ronkel said.
You can share this story on social media: