What would Lesus do? Vatican withdraws misspelled Papal medals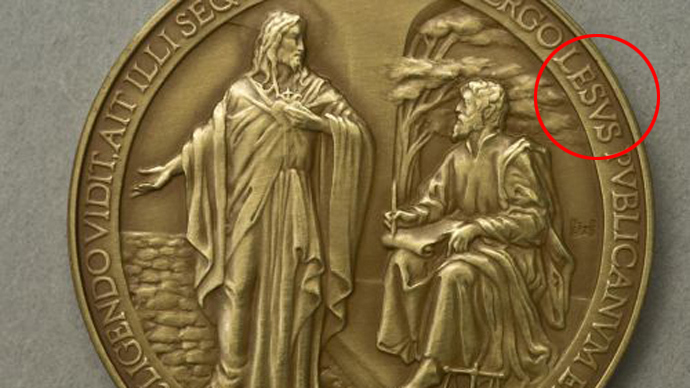 The Vatican has withdrawn from sale 6,000 copies of a new papal medal after finding that the inscriptions on them were spelled not Jesus, but Lesus.
Medals and coins depicting Pope Francis and Jesus Christ were minted for sale to collectors around the world. Such items are made for every new pontiff and serve as a source of extra income for the Vatican.
The series with the embarrassing mistake were struck at an Italian mint, with 200 medals produced in gold, 3,000 in silver and 3,000 in bronze.
Circling the rim of the medallion runs Pope Francis' personal motto, a phrase in Latin: "Vidit ergo Jesus publicanum, et quia miserando atque eligendo vidit, ait illi, 'Sequere me.'" [Jesus therefore sees the tax collector, and since he sees by having mercy and by choosing, he says to him, 'follow me.'] Unfortunately for the Vatican, the word Jesus was rendered in Latin as Lesus.
Before the misspelling was noticed and the medals were withdrawn from the Vatican Publishing House in St Peter's Square, four were already sold to the lucky few, who are now, ironically, likely to see their medals  surge in value. Flawed collectible items, such as postal stamps or coins with typos, are often much-sought after by connoisseurs.
The gaffe provoked a small storm of jokes in social media about the new religious figure. "Let us pray to Lesus," one sarcastic tweet said, while another claimed: "I blame the Lesuits."