Sans-Culottes! 'No Pants Day' pranksters shock metro passengers worldwide (VIDEOS, PHOTOS)
Taking the metro January 12, commuters worldwide are seeing scores of trousers-less pranksters taking part in the annual No Pants Subway Ride Day, an event celebrating silliness that started in New York 12 years ago and has spread globally since then.
Commuters travelling in their undies Sunday were spotted in Sydney, Beijing and Hong Kong.
Europeans, including in London, Paris and Berlin, and Americans are also participating in the stunt first started in 2002 by US Improv Everywhere, a comedic performance art group. In the first event, only seven guys went pants-less in the Big Apple, but now the annual celebration has followers in dozens of cities around the world.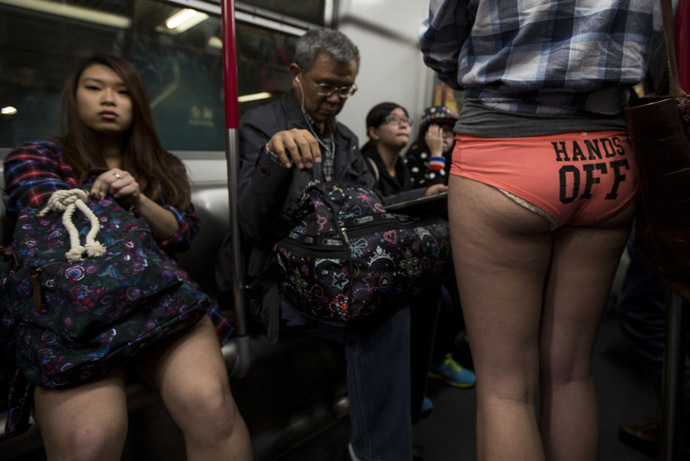 Rules for participants are pretty simple. First, pranksters agree meeting points – which is no problem thanks to social networks – then split into groups and descend on the subway (pants on). Then, they undress and with their legs bare they board a metro car at separate stops behaving the usual way – reading a paper, looking at a cell phone or whatever. The only unusual thing, to the shock of other passengers, is that they wear no pants while the upper body is properly dressed for winter.
On their Facebook page, Chicago's No Pants Subway Ride organizers recommended that participants wear hats that "cover all of the head and ears." A scarf is okay too, while socks must be "as high as you can manage" and preferably "individualistic."There were quite a few recommended options for undies: "granny panties, boxer briefs, boxers, or boy cut" – in other words, something tasteful or funny rather than scandalous.
Event organizers in Sydney suggested that those willing to join the mission may wear two pairs of underwear, if they like. But, they underlined, "Don't wear a thong or anything else that might offend people. Our aim is to make people laugh, not piss them off."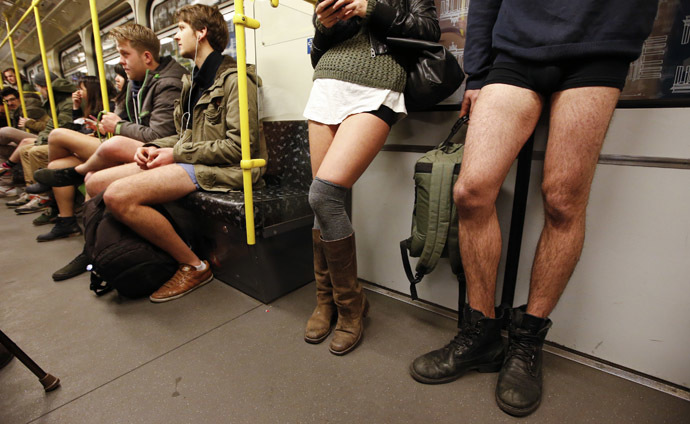 Participants should pretend that they do not know each other and are instructed not to speak with one another.
"If questioned, you do not know any of the other pant-less riders. Tell folks that you 'forgot to wear pants'," Sydney ride organizers wrote on their Facebook page. "Insist that it is a coincidence that others also forgot their trousers. Be nice, friendly and remain calm."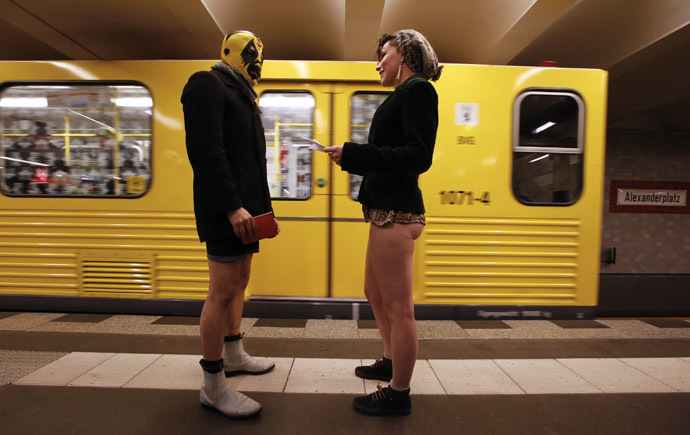 On a busy Hong Kong subway train around 40 people joined in the fun, including Australian Bess Hepworth, 37, and her 18-month-old son.
"It's the first time he will be publicly taking off his pants, although he does it regularly already," she told AFP.
I went on the No Pants Subway Ride in Hong Kong today. Thanks, @ImprovEvery. #NPSR#NPSRhkpic.twitter.com/BJPe5GcGp3

— Kay Ross (@kayross) January 12, 2014
In the Chinese capital, Beijing, a bunch of bare-legged pranksters also took to the subway, causing a lot of raised eyebrows.
"I want to show that [Chinese people] are internationalized now," 22-year-old Huang Li, wearing blue underwear decorated with dots, told the agency. "People say I'm a psycho."
#NoPantsMxpic.twitter.com/r1LbaLz9gH

— Aoyagi Jiménez (@Hneko) January 12, 2014
A flashmob of pants-less individuals hit Canada's cities of Toronto and Vancouver. About 60 people took their pants off in Toronto's subway, while in Vancouver riders dropped by on the city's SkyTrain.
200 people participated in the 'No Pants Day' event in Brussels.
Pants protesters stormed subway systems in cities across the US, including Boston, New York, Chicago and San Francisco.
OH from passerby: "This is nuts!" That's the point, right? ;-) #npsr#bostonpic.twitter.com/Pfu8msomvv

— Jay Batson (@jab) January 12, 2014
Riding the Orange Line....Pant-less pic.twitter.com/Ft4JAnUkFh

— BostonTweet (@BostonTweet) January 12, 2014
Ukraine's capital, Kiev, also joined in on the action for the first time in 2014, with about 50 people traveling in their underwear.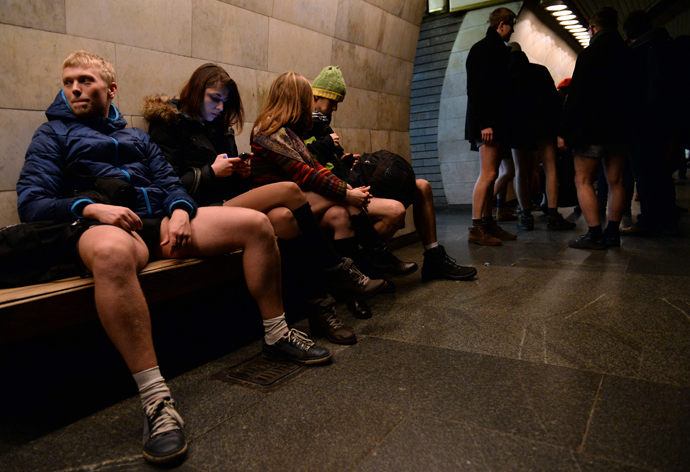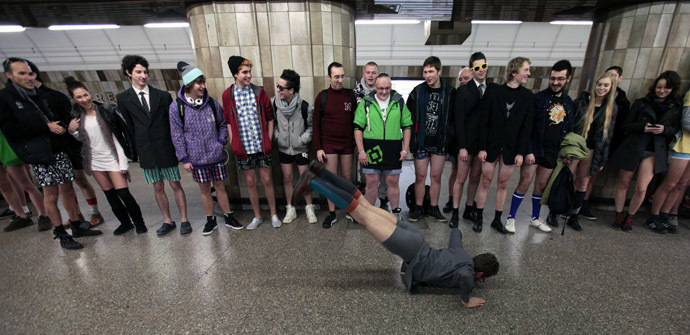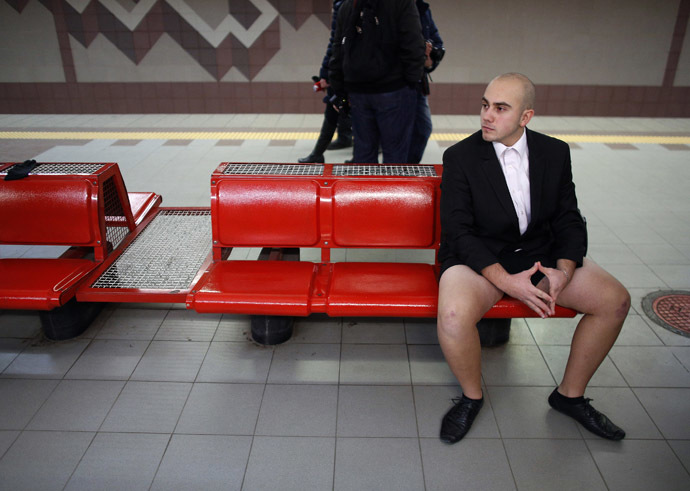 You can share this story on social media: