Panetta a target? Car explodes on Afghan runway as Defense Sec. lands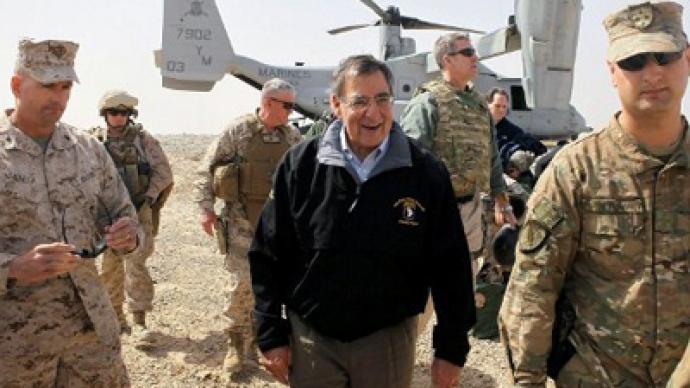 The Afghan man who crashed a truck at Camp Bastion's airfield shortly before US defense chief Leon Panetta's plane landed on the runway has died. The American military does not believe the incident was an attempt on the official's life.
The Pentagon confirmed that neither Leon Panetta nor anyone in his party was injured in the attack, which occurred early on Wednesday.The Deputy Commander of US armed forces in Afghanistan, Lt. General Curtis Scaparrotti, told journalists the Afghan died of severe burns he sustained in the crash. He added that the man might have had a container with fuel in the car which ignited in the incident. The truck, which was traveling at a high speed, careered into a ditch near the ramp alongside the runway as the Panetta's plane was landing. Scaparrotti said that the driver may have targeted a group of US Marines who had assembled on the ramp. The commander added that he did not believe the crash was connected to Leon Panetta's arrival, as the man was unlikely to have known know who was on the plane. The Defense Secretary said that he himself did not believe he was the target of the attacker."I have absolutely no reason to believe that this was directed at me," Leon Panetta said on Thursday. "This is a war area and we are going to get these kinds of incidents."The pickup truck is believed to have been stolen by a civilian employee at Camp Bastion, the main British military base in Afghanistan, the Associated Press reports. A British service member was reportedly injured as he tried to stop the perpetrator from stealing the vehicle.No explosives were found in the vehicle or on the driver as he was detained before receiving medical assistance, Pentagon spokesman Navy Capt. John Kirby stated.In the wake of the incident, flights and movements around Camp Bastion were restricted as military police patrolled the roads and investigated the scene.
US Defense Secretary Leon Panetta was informed of the crash shortly after it happened. However, he continued with his visit as planned, addressing troops at the US military base Camp Leatherneck, which is conjoined with Camp Bastion, before meeting with Afghan officials. During his visit, Panetta flew from Washington to the US transit center in Manas, Kyrgyzstan on a Boeing 747, only to transfer to a C-17 military cargo plane for the undisclosed visit to Afghanistan, the New York Times report. Panetta's visit to the country was aimed at defusing tensions that have plagued NATO's mission in Afghanistan in recent weeks. An accidental burning of several copies of the Koran at a US base provoked a spate of riots from offended Muslims. And over the weekend, a mentally unstable US soldier allegedly killed 16 civilian villagers, including women and children, in a shooting rampage in the volatile province of Kandahar.
You can share this story on social media: