Palin: War with Russia? Definitely maybe!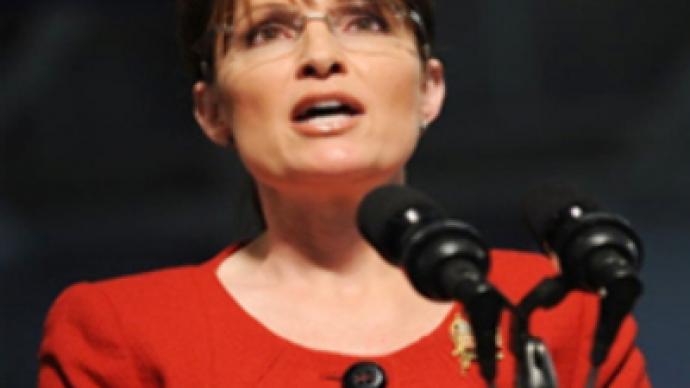 Sarah Palin – the now world-famous governor of Alaska and Republican vice-presidential nominee for the 2008 United States presidential election – caused fresh outrage by announcing that war with Russia is a possibility for the US.
During an interview with ABC news she was asked whether war with Russia was likely.
"Perhaps so," Palin replied, "I mean, that is the agreement when you are a NATO ally, is if another country is attacked, you're going to be expected to be called upon and help."
Previously, she had already insinuated that excluding Russia's from the G8 was a necessity.
The Alaskan governor expressed awareness of the fact that Georgia is not a member of NATO, but insisted that, like Ukraine, it should be. Palin also pointed out that she is well-equipped to talk about Russia since "they're our next-door neighbors, and you can actually see Russia here from Alaska.''
This was her first interview since being picked as John McCain's running partner, and it was marketed as a far-reaching talk about many corners of the world. The discussion went, amongst other things, to the Israel-Palestine conflict ("I don't think we can second-guess what Israel needs to do to defend its nation'') and the Pakistan issue ("As for our right to invade, we are going to work with these countries to build new relationships"). Palin's representative told the media that she will participate in further national interviews when she will be "comfortable" with it.
Palin in the public eye
Since her nomination as Republican vice-presidential candidate on August 29, Palin has become the subject of intense media scrutiny and public controversy. Prior to this, little was known about her, apart from her being elected as the first female, and youngest, Alaskan governor.
The initial wave of media focus on her stemmed from rumors about the parentage of her infant son. Some sources insinuated that he was, in fact, the result of an illegitimate affair (allegedly, with her husband's boss). Nevertheless, this was quickly forgotten as attention shifted to the pregnancy of Palin's 17-year-old unmarried daughter. The Republican Party showcased this as an expression of strength: to them it showed that Sarah Palin is a "real" person who is not afraid to deal with everyday problems.
However, Palin's personal life has swiftly given way to questions about her political abilities. Her remarks about excluding Russia from the G8 and the Iraq war being "a task that is from God'' have been popularised all over the world.
The internet has been virtually swamped with both pro-Palin and anti-Palin sentiments. The Facebook group "I have more foreign policy experience than Sarah Palin" has tens of thousands of members and is still growing strong. This is a public attack on how allegedly ill-suited Palin is for a foreign policy role.
Before traveling to Kuwait to see Alaskan National Guard forces, she had only ever been to Canada and Mexico. She has never met any of the world's high standing political figures. When asked in her ABC interview what she thought of the Bush doctrine, she had to ask the anchorman to explain what he meant by it.
On the other hand, many blog-posting Hilary Clinton supporters have named Sarah Palin as their "second best" option, and an even greater number follow her actions and comments with fascination.
The Palin issue has even struck Hollywood. Actor Matt Damon said that there is a very good chance that John Mccain doesn't survive his first term as president and, in that case, the thought of Palin taking over is "a really scary thing". The ex "Baywatch" star and animals' rights activist Pamela Anderson publically lay a very crude slam down on Palin's affinity for hunting.
Nevertheless, Palin is convinced of her ability to perform the Vice-Presidential role adequately. She considers herself to have a fresh outlook on international affairs, and insists that Washington is in dire need of a change. More importantly, Palin doesn't seem to be at all bothered by the conflict surrounding her name. Whatever the election result, or the public opinion, one thing is for sure: women in American politics will never be the same again. And although not everybody likes Palin, they are sure interested in talking about her.
You can share this story on social media: